Location:
Room 13, LRSM
Supervisor/Coordinator:
Steve Szewczyk
Phone: 215-898-2038
Email:
sts23@seas.upenn.edu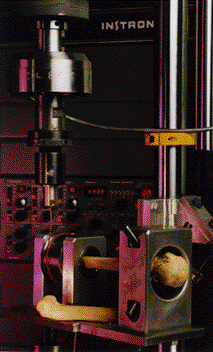 This facility provides the necessary testing machines and tools for investigating a wide spectrum of mechanical properties in different types of materials.
Dynamic Testing Machines
This instrumentation involves several channels of closed-loop servohydraulic and electromechanical testing machines. Such systems are capable of applying loads to the test specimen in the range one pound to 30 Kip. In addition, test specimens can be cycled from very low rates to frequencies as high as 200 Hz. Displacement amplitudes range from a few micro-inches to several inches. The facility includes two servohydraulic Instron Testing Machines, model 1331 with capacity 22 Kip; one MTS testing machine, model 810, capacity 22 Kip. The latter machine can be used in both vertical and horizontal positions. A special electro-mechanical dynamic system, Instron model 1361, with a special ramp function generator, is available. The facility has been updated recently with the acquisition of a new Instron model 8500, which incorporates a closed-loop servohydraulic system and strain control unit. This is a state-of-the-art instrument with total digital control and is used to study new materials in the area of plastics, ceramics, composites and films. A new high frequency instrument, an MTS Model 810, 120 Hz, capacity 11 Kip with TestStarII Digital Control System, will be placed in operation in May, 1997
Static Testing Machines
There are four static testing machines in the facility: a model TT Instron testing machine, with 22 Kip capacity and speed from 0.0002 to 20 inches per minute; two high accuracy Instrons, model 1125, capacity 22 Kip with speeds ranging from 0.00005-20 inches per minute and load and strain cycling control; and a screw driven Instron model 4206. These computer controlled instruments increase the versatility of the facility by adding several functions required for hysteresis, stress conditioning and specimen relaxation and recovery studies. They also permit testing of different materials up to 30 Kip.
In addition, the facility has special equipment for creep, impact and hardness testing.
List of Equipment
All instrumentation in this facility can used by any operator approved by the facility supervisor after appropriate training. Instruments can also be run on a fee-for-service basis.
Dynamic Testing Machines:
Two Instrons Model 1331 capacity 22 Kip
MTS Model 810 capacity 22 Kip
Instron Model 1361
Instron Model 8500
MTS Model 810, 120 Hz, capacity 11 Kip with TestStarII Digital Control System
Static Testing Machines:
Instron Model TT capacity 22 Kip
Two Instrons Model 1125 capacity 22 Kip
Instron Model 4206 capacity 30 Kip
Minor Equipment:
Creep tester
Rockwell Hardness Tester
Microhardness Tester
Hot Press, 50 Tonnes, 350oC
Friction tester, custom made
Portable fatigue machine