Dennis Discher and Andrea Liu (IRG1 and Seed)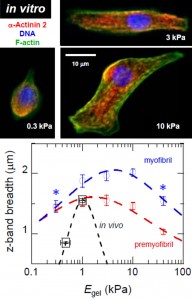 'Living Smectics' are being studied by a Physics PhD student, Stephanie Majkut, with Andrea Liu helping in theory.
Elastic boundary conditions affect the Order and Organization of the living cytoskeleton.
While the effect of boundary geometries on LC order have been widely studied for decades, the elasticity of the boundary has not been examined.
Living LCs have been the subject of recent theories, and now have been extended to 'smectic like' Order in muscle cells.
Equally important is the material inspiration such systems provide for synthetic LCs smectics, 'active' or 'dead', interacting with soft boundaries.
  Stephanie Majkut, … Andrea Liu, Dennis Discher.   Current Biology 2013