Recent News
Congratulations to the 2021 MRS Fellows!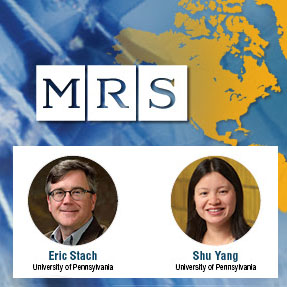 Please join us in congratulating Professors Eric Stach and Shu Yang on being selected as Fellows of the Materials Research Society. MRS Fellows are recognized for "sustained and distinguished contributions to the advancement of materials research".
Eric Stach was recognized "For the innovative development and application of in situ and operando methods for the characterization of nanoscale phenomena in materials, largely through transmission electron microscopy".
Shu Yang was recognized "For outstanding contributions to the design, synthesis, assembly, and fabrication of responsive, foldable, and buildable soft and bioinspired materials, and for pioneering research on mechanical instabilities and photonic structures."
You can read more about this award through the link below.
news release
---
Mark Licurse, Engages Students via Remote Learning and Tabletop SEM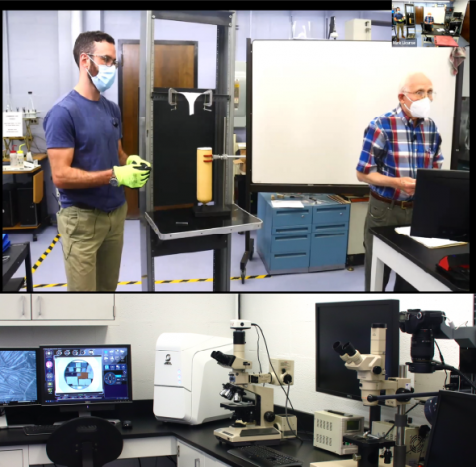 This past fall, 2020, LRSM's Director of Education and Outreach, Dr. Mark Licurse, and Prof. David Pope, Department of Materials Science and Engineering, developed a new online-only class "Failure Analysis of Engineering Materials." The class was featured by Penn Engineering Today in an article by Melissa Pappas. The spin was that it was originally planned to be even more hands-on than other classes, focused on real-world problems and failures, but the pandemic forced them to start from scratch to ensure students could engage virtually. "We had designed this course to be very hands-on and expose students to real-world situations where materials fail, break or collapse, having potentially devastating consequences," says Licurse. "We would ask students to act like detectives to figure out how and why a material had failed, showing the applicable significance of materials science and mechanical engineering." 
Luckily, they were able to take many illustrative images using a new tabletop Scanning Electron Microscope, purchased with help of the Penn MRSEC. The resulting class was well-received with high levels of student engagement. Clearly the pandemic is changing all aspects of life, but from here the question will be how will this class' success shape future versions of the class? This remains unknown, but lessons learned will immediately be applied to the LRSM's Summer Course in Materials Science for High School Students (the Penn Summer Science Initiative).
read article
---
Arjun Yodh Receives Michael S. Feld Biophotonics Award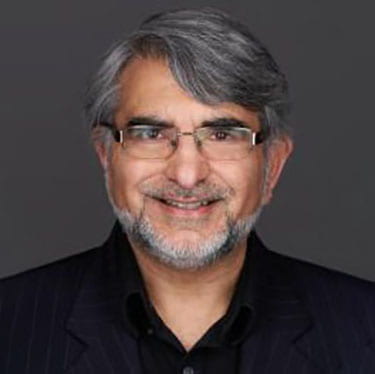 Please join us in congratulating Prof. Arjun Yodh, on being selected as the 2021 recipient of The Optical Society of America (OSA) Michael S. Feld Biophotonics Award. Arjun is being honored specifically for pioneering research on optical sensing in scattering media, especially diffuse optical and correlation spectroscopy and tomography, and for advancing the field of biophotonics through mentorship.
The Michael S. Feld Biophotonics Award honors Prof. Michael Feld for his fundamental contributions to applications of photonics technologies to solving biomedical problems.  Established in 2012, the Feld Biophotonics Award recognizes individuals for their innovative and influential contributions to the field of biophotonics, regardless of their career stage.  The scope of the award encompasses all areas of biophotonics ranging from fundamental optics discoveries in biology to development of new theoretical frameworks and novel instrumentation to clinical translational research for biomedicine. 
You can read more about this award through the link below.
Congratulations, Arjun on this well-deserved recognition.
news release
---
LRSM Serves Philadelphia Area High School Students in Penn No-cost Virtual Summer Program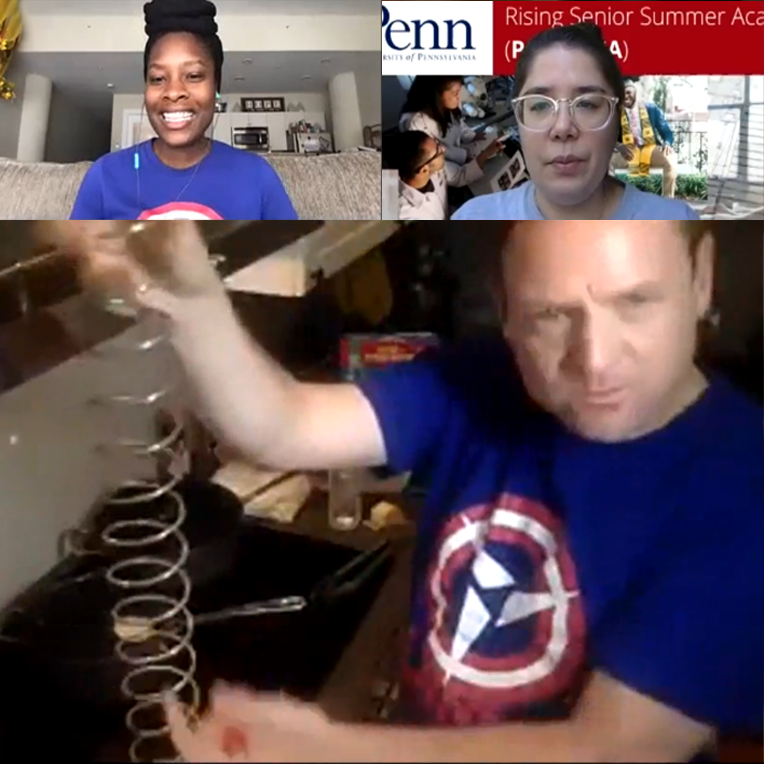 In July 2020, the LRSM contributed to the inaugural University of Pennsylvania Rising Scholar Success Academy (PennRSSA), a free-of-cost four-week summer program for rising seniors in the Philadelphia area. The entirely virtual program was a collaborative effort between the Provost's Division of Student Engagement and 8 Schools of the university. The program consisted of both live and asynchronous learning with the purpose of immersing "… rising seniors in an academic, career, and post-secondary preparatory experience." The LRSM provided content to 807 rising seniors (57.89% women, 41% underrepresented minority) from 82 different high schools in the area as part of the PennRSSA "Academy" portion of the program. Various materials science concepts were covered in the form of pre-recorded videos by Schuyler Patton, a local high school teacher, as well as supplemental readings, learning checks, and unit tests. The schedule also included two days of live engagement with the students, where Dr. Wallace facilitated an icebreaker and Q&A segment while Schuyler led the live demonstrations (i.e. Introduction to Materials & Cooking with Materials). Learn more about RSSA here.
news release
---
Agarwal Group Creates Helical Topological Exciton-Polaritons, a New Type of Quasiparticle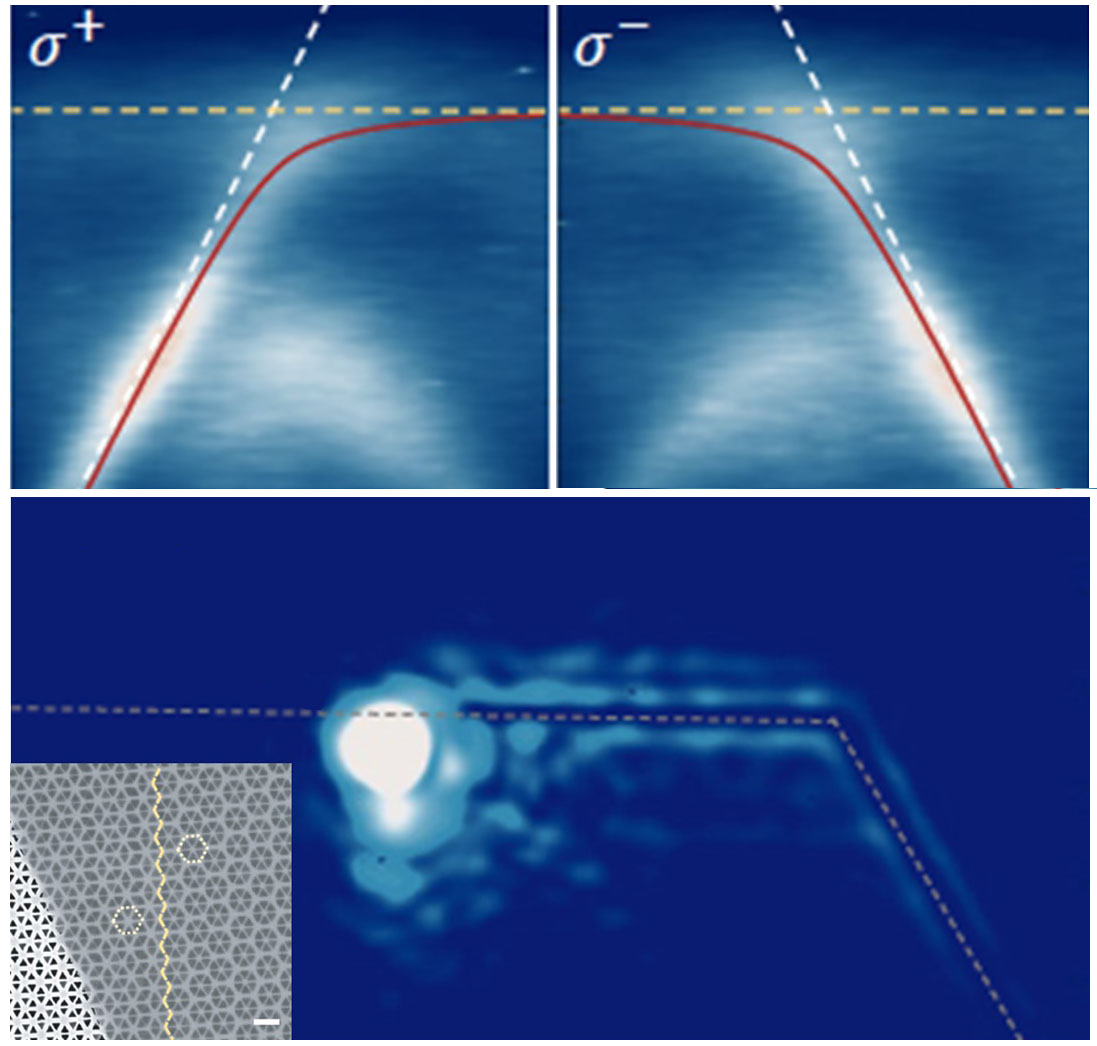 A study from MRSEC seed led by Ritesh Agarwal published in Science, reports a new type of quasiparticle, helical topological exciton-polaritons in a system of monolayer of tungsten sulfide strongly coupled to a photonic crystal. Exciton-polaritons, which are half-light half-matter quasiparticles inherit useful properties of their constituents but typically suffer from scattering losses. By creating a new type of topological insulator for polaritons, the Agarwal group demonstrated propagation of polaritons around sharp bends with no backscattering losses. In addition, due to spin-momentum locking, the polaritons with opposite spins (helicities) were transported to different directions. These studies were performed at relatively higher temperatures (200K) and without the need for strong magnetic fields, which make them promising for fundamental studies and device applications. Topological helical polaritons provide a new platform for developing robust and tunable polaritonic spintronic devices for classical and quantum information processing applications.
news release
---
Professor E. Ward Plummer, 1940-2020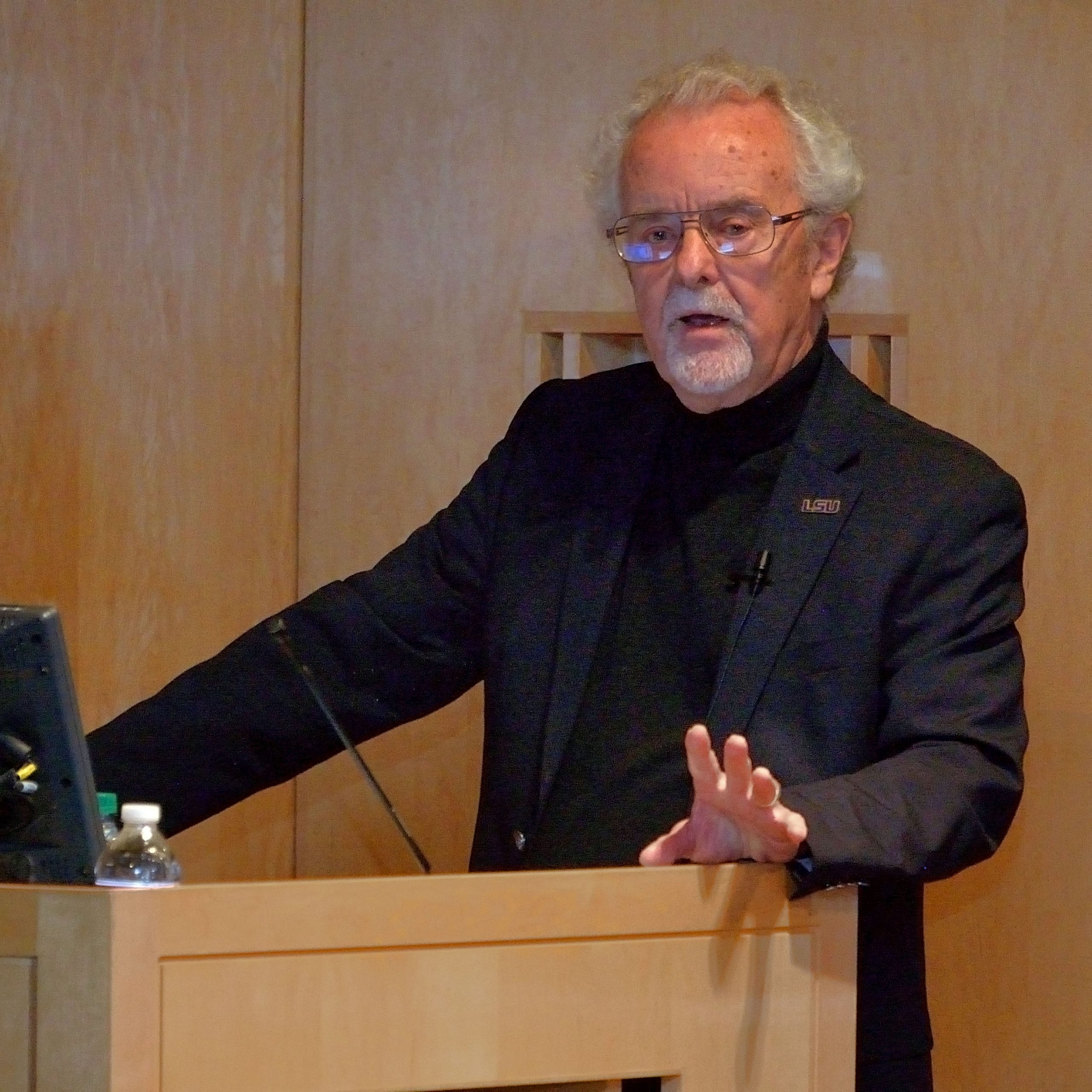 Sadly, our friend, and former director of the LRSM, E. Ward Plummer, died suddenly and peacefully on July 23 in Baton Rouge, LA. Ward was a major player within the LRSM for many years. During his time at Penn, Ward led various interdisciplinary materials "Thrusts" (now called IRGs), and he was Director of the LRSM from 1990 to 1993. After leaving Penn, Ward served for many years on the LRSM external advisory board, until his death.
read more
---
Arratia, Yodh groups collaborate to elucidate connections between structure, relaxation, and applied stress during plastic deformation.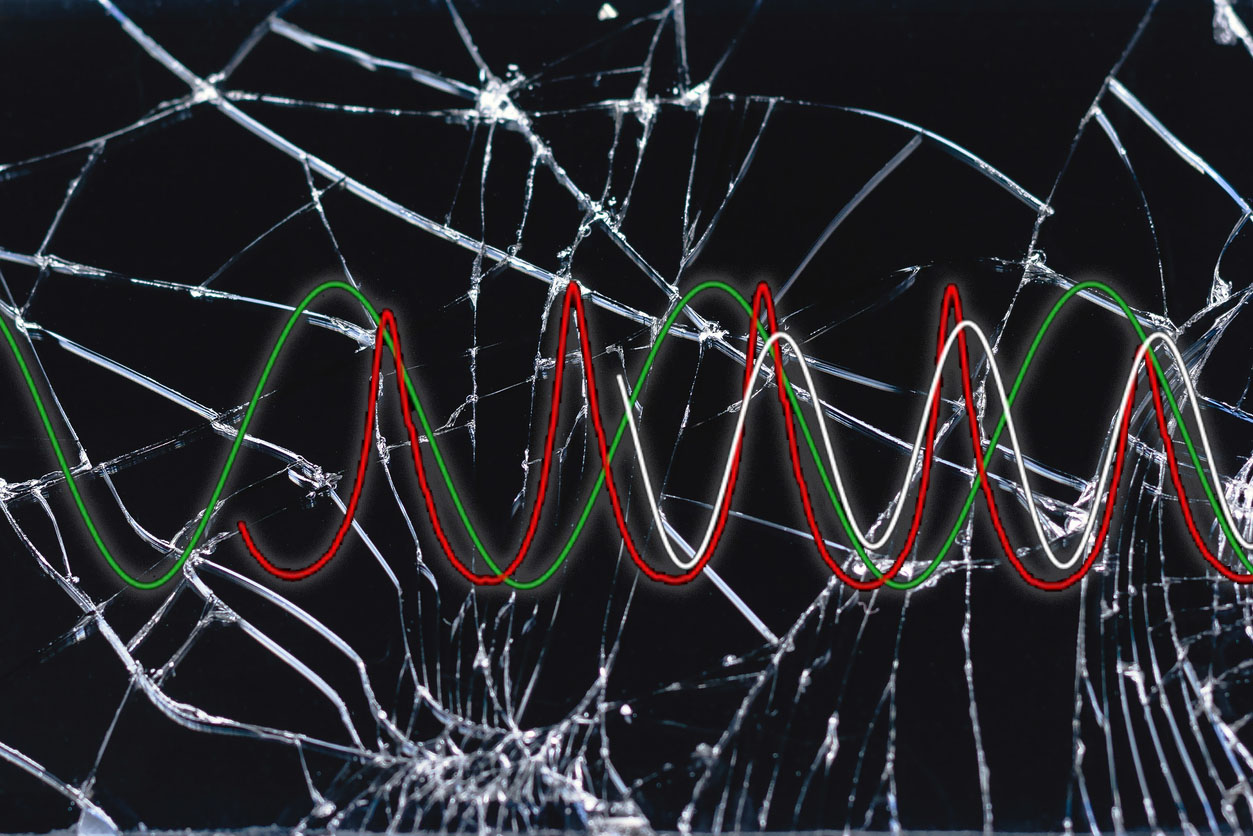 A study conducted by graduate student Larry Galloway, post-doc Xiaoguang Ma, and faculty members Paulo Arratia, Douglas Jerolmack, and Arjun Yodh, provides new insights about how the microscopic structure (characterized by excess entropy) of disordered solids is related to the external stresses applied and to the resulting shifting motions of individual constituent particles during plastic deformation. The team conducted experiments on a two-dimensional colloidal solid sheared by the motion of small magnetic needle. The shearing force caused the solid to plastically deform, and concurrent video microscopy enabled tracking of the movements 50,000 particles in the solid.
Galloway, K.L., Ma, X., Keim, N.C., Jerolmack, D.J., Yodh, A.G., and Arratia, P.E., Scaling of relaxation and excess entropy in plastically deformed amorphous solids. Proceedings of the National Academy of Sciences, online published May 19, 2020 https://doi.org/10.1073/pnas.2000698117.
news release
---
Synthetic Nanovesicles Coated with Oligomannose Can Help Understanding Glycans on Coronavirus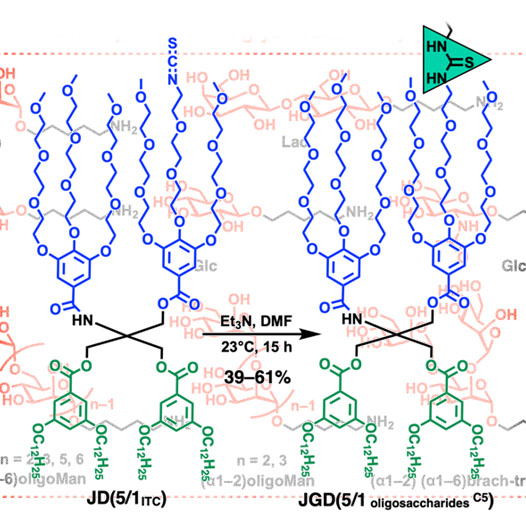 A study from MERSEC Seed lead by Percec laboratory recently published in PNAS, reported a methodology to create cell-like nanovesicles coated with linear and branched oligomannose, which is widely presented on the surface of bacterias and viruses including coronavirus. Both linear and branched oligosaccharides synthesized by automated glycan assembly (AGA), with hydrophobic N-pentyl linkers, have been used to create Janus glycodendrimers via a new isothiocyanate–amine coupling reaction. These nanovesicles exhibiting lamellar surface morphologies, which mimic the recognition structures of cell-surface glycans (sugars) and viral glycoproteins. This methodology is likely to be useful in helping elucidate mechanisms of significance for translational medicine such as the camouflage functionality employed by viruses to evade recognition. This collaborative work was carried out by the labs of Percec from Penn Chemistry, Seeberger from Max Planck Institute of Colloids and Interfaces, Golm, Germany, Klein from Temple University, and Moeller from RWTH Aachen University.
news release
---
The LRSM Building Recreated in 'Minecraft'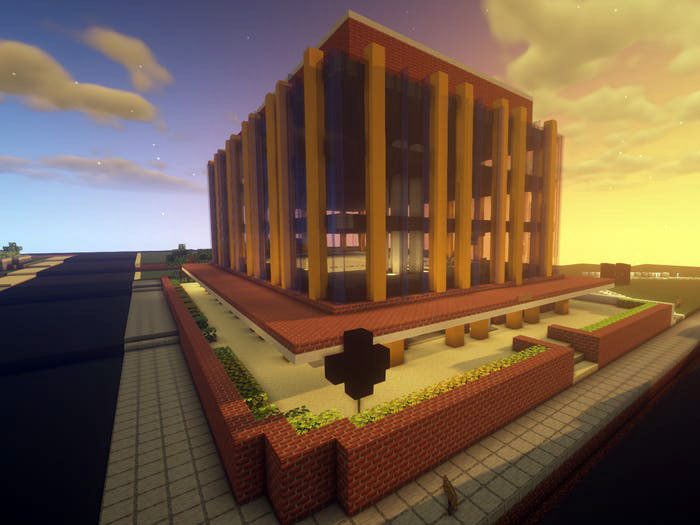 This image of the LRSM was built by Ben Hammel and Randy Chen (screenshot by Makarios Chung) for Penn "Minecraft." A group of Penn students set up a Minecraft server and coordinated recreating the campus together over the last two weeks of March. Junior Andrew Guo first came up with the idea for a virtual Penn campus inspired by news of a Japanese elementary school graduation on "Minecraft." The Penn students also interacted with other students at Columbia University and Brown University who were working on similar projects to set up possible Hunger Games-like challenges between schools.
read more
---
Eric Stach, New LRSM Director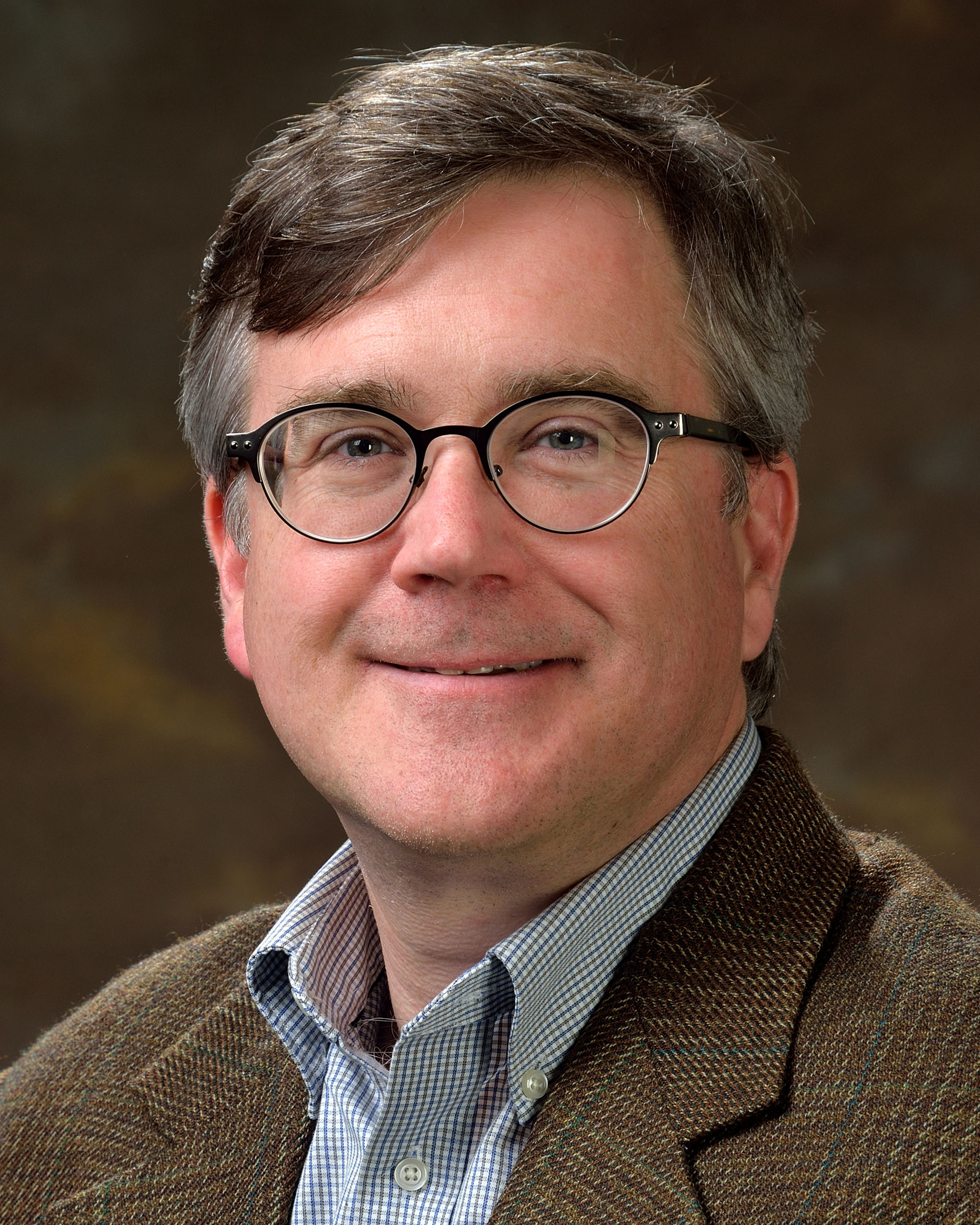 Eric Stach will be our new LRSM Director starting July 2020! Eric joined the Penn faculty in 2017 and is currently Professor of Materials Science and Engineering and Faculty Chair of the Nanoscale Characterization Facility in the Singh Center for Nanotechnology. In addition to academics, Eric has led efforts and centers at Lawrence Berkeley National Laboratory and Brookhaven National Laboratory, as well as in industry at Hummingbird Scientific which he co-founded. Eric takes over the reins from Arjun Yodh, who has directed the LRSM and its NSF-MRSEC since 2009.
press release
---
Recent Journal Covers Highlight MRSEC Activity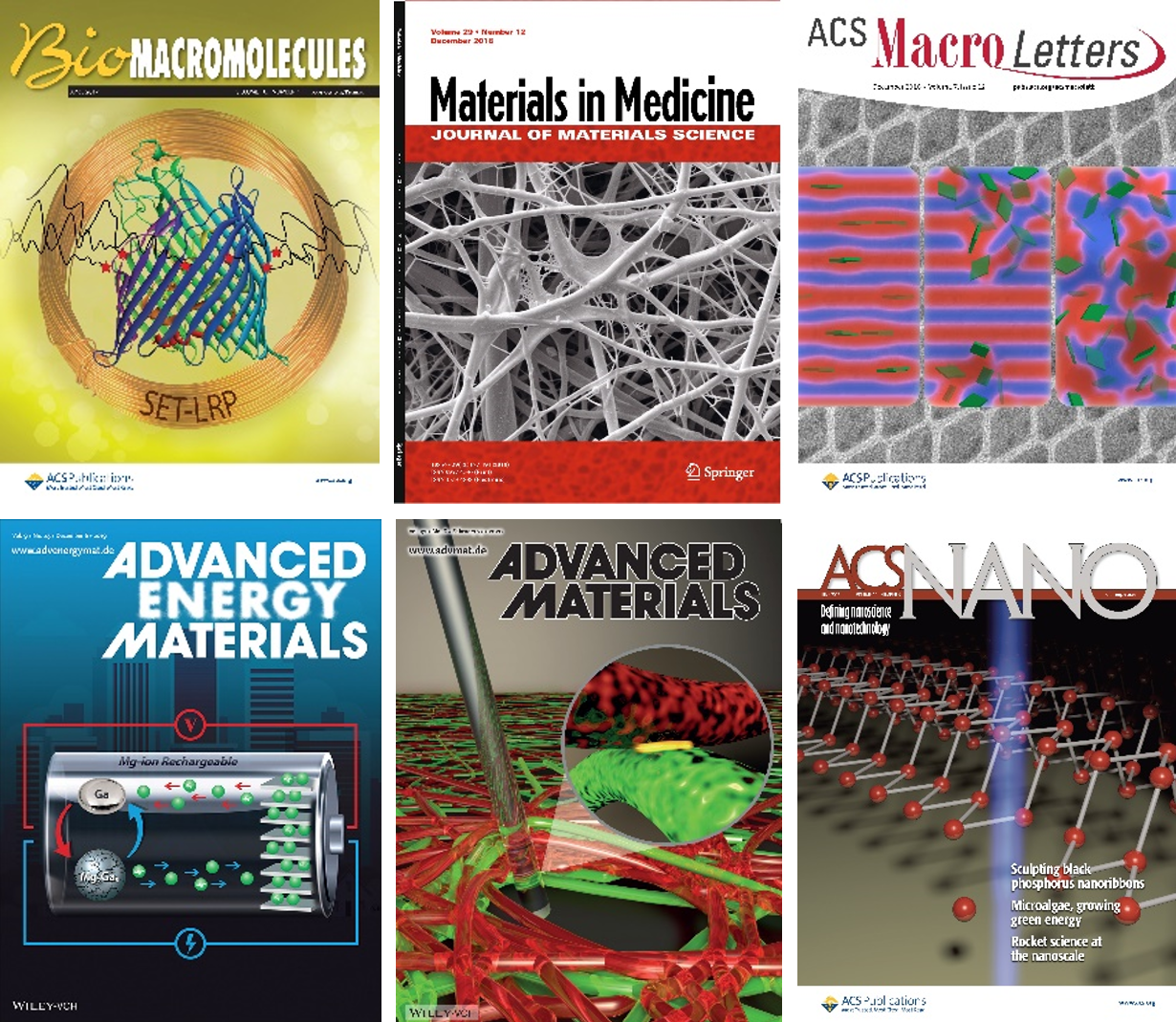 LRSM research is often made visible by cover images on technical journals. This slideshow highlights recent covers from research in the LRSM community. The research leading to these cover images are all based on MRSEC support, including direct support and MRSEC support for Shared Experimental Facilities.
more information
---
10th Annual Philly Materials Science and Engineering Day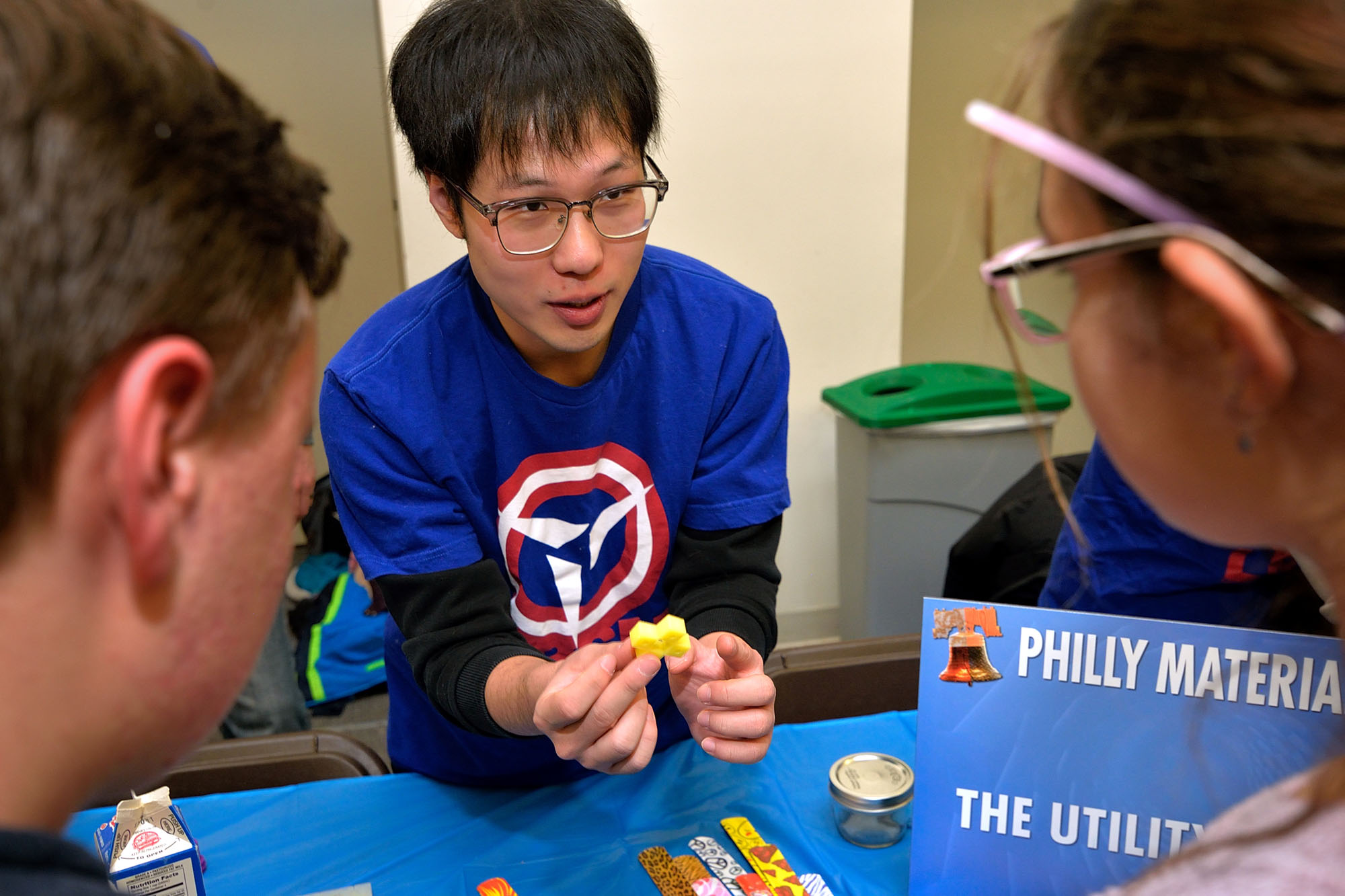 Saturday, February 1st, 2020 saw the 10th annual Philly Materials Science and Engineering Day, a day-long festival hosted by Drexel University Materials Science department and the Penn MRSEC. This event has been held annually since 2011 with an average annual attendance of 900+ people. This year, volunteers taught Materials Science concepts to elementary and middle school-aged students and their families with hands on demonstrations and workshops. For example, MEAM professor, Jordan Raney, demonstrated the utility of instability while PhD candidate Daniel Rosen, from Chris Murray's MSE lab, illustrated the super-elastic phenomena of shape-memory alloy using a coil of NiTinol. Nearly half of the Philly Materials Day demo tables were staffed by 70+ graduate students, undergraduate students, and faculty from 15 LRSM-affiliated groups.
more information
---
Reconfigurable Nematic Liquid Crystal Drops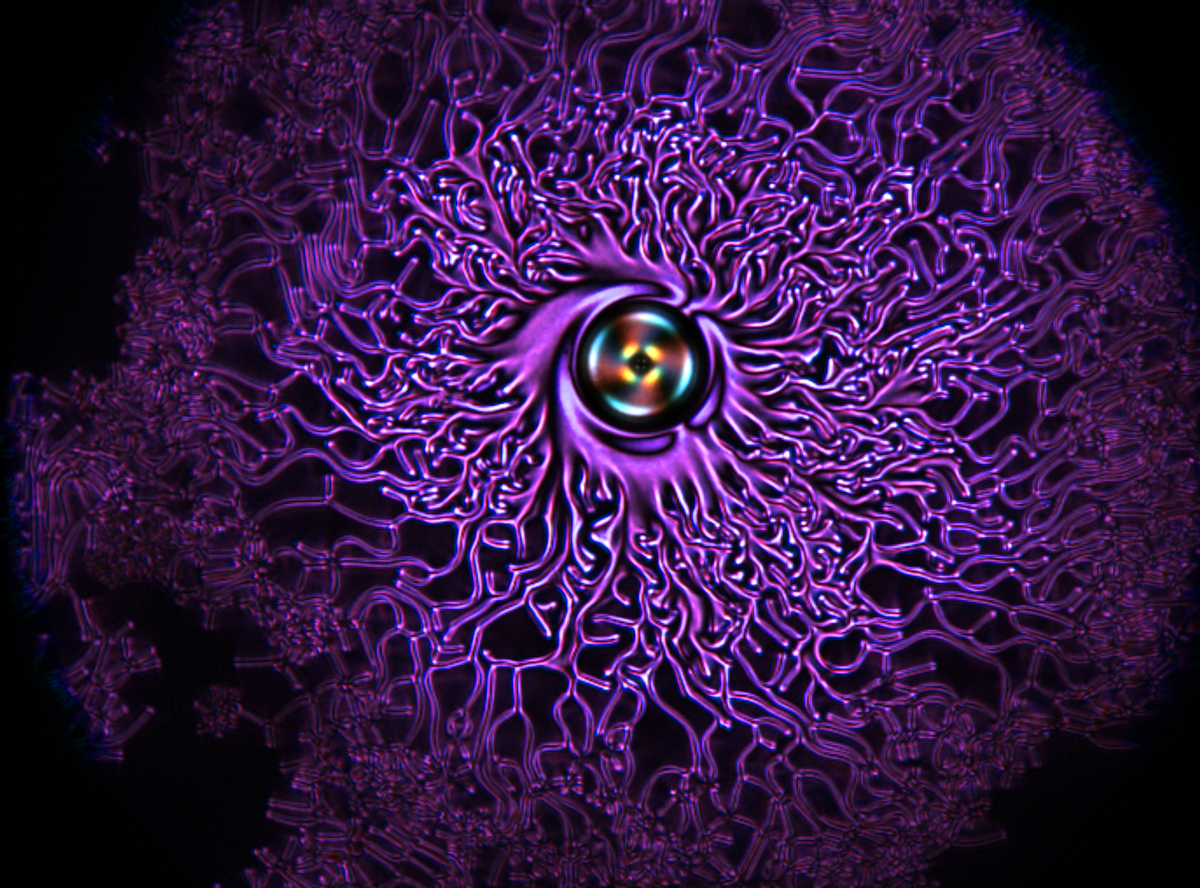 A study from MRSEC IRG-3, recently published in Nature, reports on reversible shape transitions of spherical drops containing liquid crystals into a rich variety of non-spherical drop morphologies with unique internal structure. The collaborative work was carried out by graduate students Wei-shao Wei and Sophie Ettinger and PhD alum Yu Xia, in the labs of Arjun Yodh and Shu Yang. The unexpected discovery provides new understanding about how molecular polydispersity—a condition where the lengths of liquid crystal molecules vary widely—can drive simple droplets to change into unusual shapes. Observations and modelling reveal that chain length polydispersity plays a crucial role in driving these morphogenic phenomena, via spatial segregation. This insight suggests new routes for encoding network structure and function in soft materials.
news release
---
Compression Leads to Stiffening in Tissues But Not Biopolymer Gels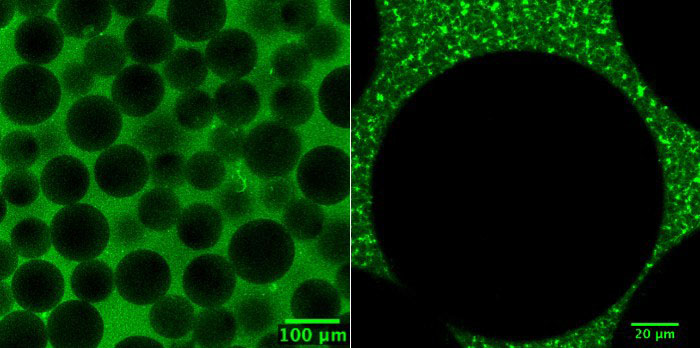 Even though the cells in soft tissue contain network of filamentous polymers and are imbedded within extracellular matrices made from chemically distinct but physically similar polymers, they respond differently to compression and stretch compared to the polymer networks alone. Work by two groups within the MRSEC reveal that this difference arises when volume conserving cells are placed in a filamentous network and constrain the way these networks can reorient when the system is deformed. This work,led by Paul Janmey, Professor in the Perelman School of Medicine's Department of Physiology and in Penn Engineering's Department of Bioengineering, and Vivek Shenoy, Eduardo D. Glandt President's Distinguished Professor in Penn Engineering's Department of Materials Science, resulted from extensive use of instrumentation in the viscoelastic characterization lab in the LRSM and on experimental and theoretical work supported by the MRSEC.
press release
---
LRSM Team Creates and Understands Novel Chiral Microparticles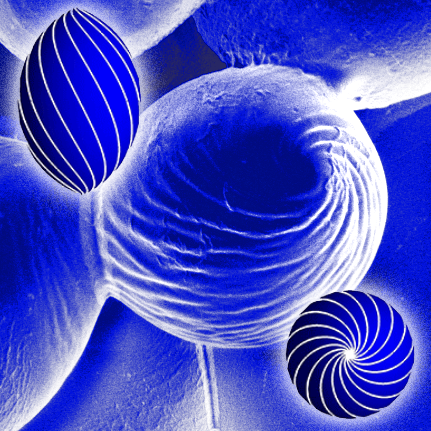 Helen Ansell, Dae Seok Kim, Eleni Katifori, and Randall Kamien are part of a team that studied the spontaneous formation of chiral microparticles with submicron features. The surface structure is stabilized by liquid crystalline order in the initial spherical droplets. Using a combination of analytic and computational techniques, the team established that the patterns on the surface corresponded to loxodromes — paths of constant angle with respect to the lines of longitude. The work, published in Physical Review Letters, is the latest in a string of interdisciplinary success by the IRG on Pluperfect materials. The LRSM has had a long history of mixing chemistry, materials, and physics and continues to do so.
news release
---