Recent News
8th annual Philly Materials Science and Engineering Day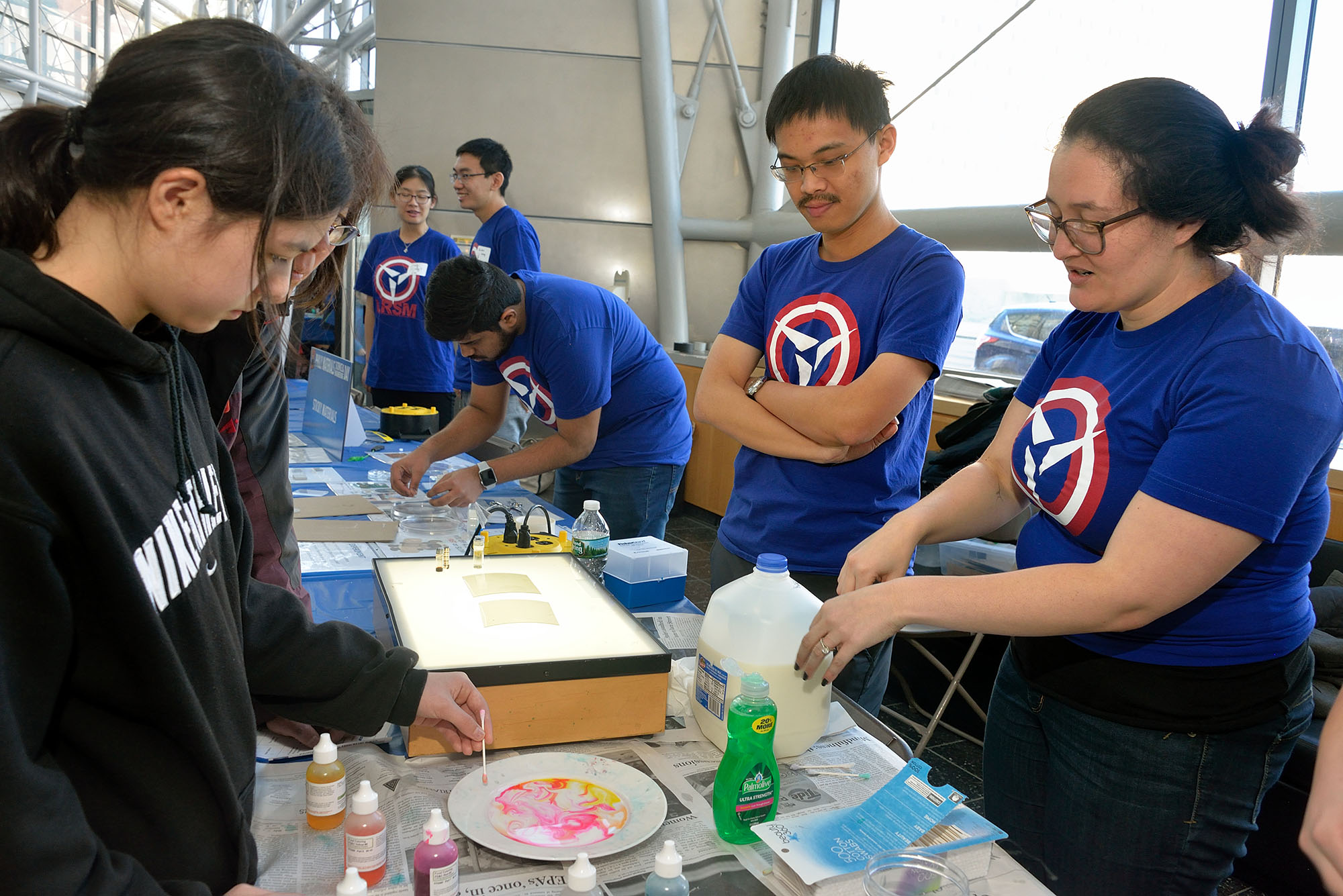 Saturday, February 3rd, 2018 saw the 8th annual Philly Materials Science and Engineering Day, a day-long festival hosted by Drexel University Materials Science department and the Penn MRSEC. This event has been held annually since 2011 with an average annual attendance of approximately 1,000 people. This year, volunteers taught Materials Science concepts to elementary and middle school-aged students and their families with hands on demonstrations and workshops. For example, MSE professor Eric Stach performed feats of levitation using high temperature superconductor materials while PhD candidate Lisa Mariani, from Kevin Turner's MEAM lab, explored soft materials' properties using everyday materials like strips of scotch tape. Nearly half of the Philly Materials Day demo tables were staffed by 65 graduate students, undergraduate students, and faculty from 12 LRSM-affiliated groups.
Other demonstrations included:
Magic Liquid Crystal: Is it a liquid or a crystal? (Shu Yang, MSE)
Tribology: principles of friction, wear and lubrication (Robert Carpick, MSE)
Chemical tools for tackling neurodegenerative disease (E. James Petersson, Chemistry)
Shrinky Dink Polymers (Karen Winey, MSE)
Bouncy Balls & Borax: Polymerizing Glue (Eric Schelter, Chemistry)
Diving Into Different Dimensions (Marija Drndic, Physics)
The surprising behavior of soft matter (Arjun Yodh, Physics)
Muggle Magic (Fakhraai, Chemistry)
Light and Color: From Molecules to LCD Screens (Lee Bassett, ESE)
Non-Newtonian Fluids (Steve Szewczyk, MSE)
Read the Penn Current Article
more information
---
IRG-1 Team Identifies Failure Signatures in Disordered Solids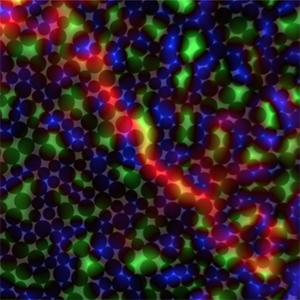 In a paper published in Science, a team of faculty from IRG-1 (Rearrangements and Softness in Disordered Solids) identified fundamental new connections between microscopic structure and dynamic rearrangements in glassy materials. In this truly interdisciplinary and multi-scale work, the team tested new ideas about "softness" in 15 different experiments and simulations spanning materials whose constituent size spans 7 orders of magnitude, and whose mechanical stiffness spans 13 orders of magnitude.
read article
---
Principal of Condensed Matter: In Honor of Tom Lubensky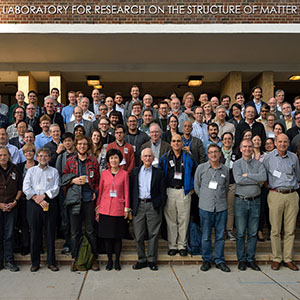 A special symposium, entitled 'Principal of Condensed Matter: In Honor of Tom Lubensky', took place at the LRSM November 3 and 4, 2017. Tom is a long-time and current member of the LRSM-MRSEC, and he is one of Penn's leading theoretical physicists. He was awarded the APS Buckley Prize and is a member of the National Academy of Sciences, in part for his foundational contributions to soft condensed matter physics. The symposium featured lectures from fifteen of this field's elite from all over the world leading off with a Quasi-crystal talk by Paul Steinhardt (Princeton), a former Penn faculty and LRSM member, and ending with an exciting talk about characterizing disorder by Paul Chaikin (NYU), a former graduate student, post-doc, and professor at Penn. In between were more speakers including Tom's son, David, who presented new research in biophysics. The symposium drew well over 100 scientists including many former students, post-docs, collaborators, and friends. The symposium dinner was held at The Study in University City on Saturday evening. Details of the event can be found at  http://www.lrsm.upenn.edu/event/tomfest/
news release
---
Celebrating the Life and Contributions of an LRSM Founding Father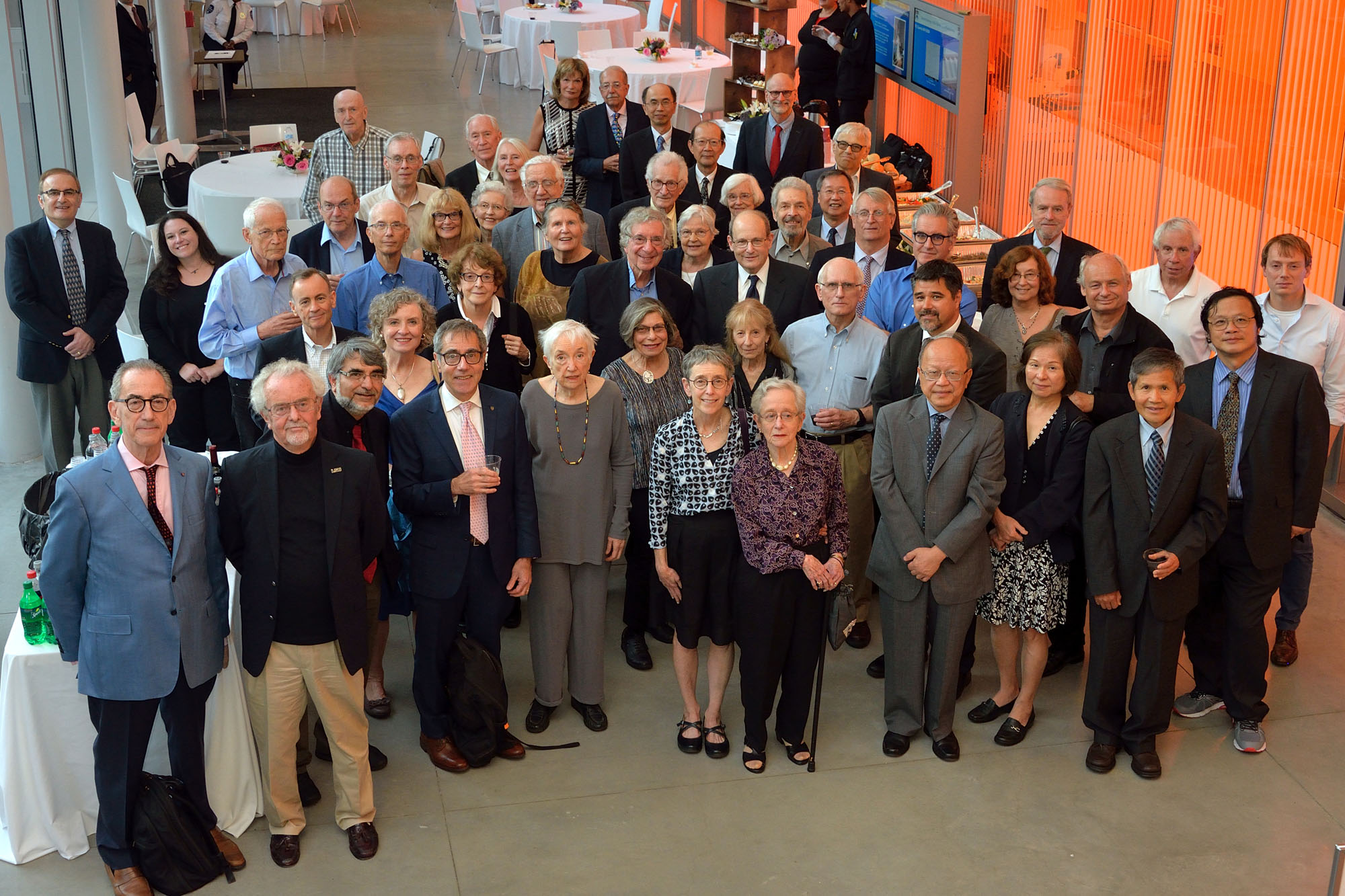 Approximately 75 colleagues gathered for an all-day memorial to celebrate the life and contributions of LRSM Founding Father, Elias (Eli) Burstein, who, along with Bob Maddin, Robert Hughes, and Norm Hixson, was the driving force in establishing the first academic, interdisciplinary materials lab in the USA in 1960 at Penn, and since then, the LRSM has garnered continuous center funding through 2023. The symposium event was held Friday, October 6, 2017, and featured stories about Eli's life and scientific achievements from his students and post-docs, faculty colleagues, current and former LRSM directors, and family friends.  The event concluded with a dinner in the Singh Center for Nanotechnology attended by Eli's wife, Rena, and family. Eli was a man of great stature in the physics community, both at Penn and throughout the world. He died in his 100th year on June 17, 2017.
more information
---
LRSM Awarded 2017-23 NSF Materials Research Science & Engineering Center (MRSEC)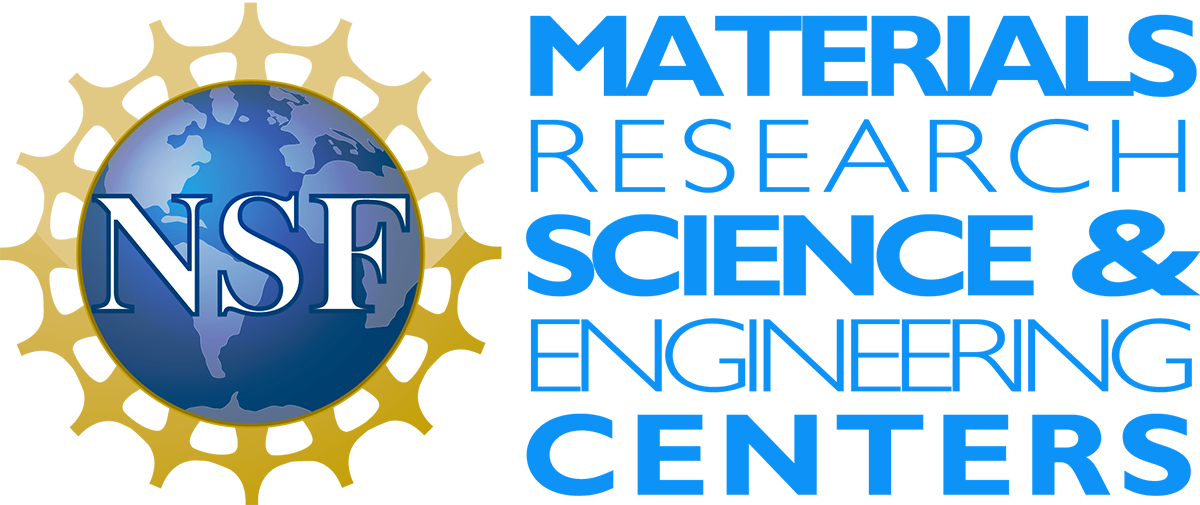 The Laboratory for Research on the Structure of Matter (LRSM) has been awarded a six-year, $22.6 million center grant from the National Science Foundation to support LRSM's work in cutting-edge materials. The new MRSEC, one of eight selected nationwide, provides crucial support for LRSM's education and outreach missions, its shared experimental facilities, and the research of three new interdisciplinary research groups (IRGs).
more information
---
Lisa Tran Takes Fifth Place in the Nikon Small World Competition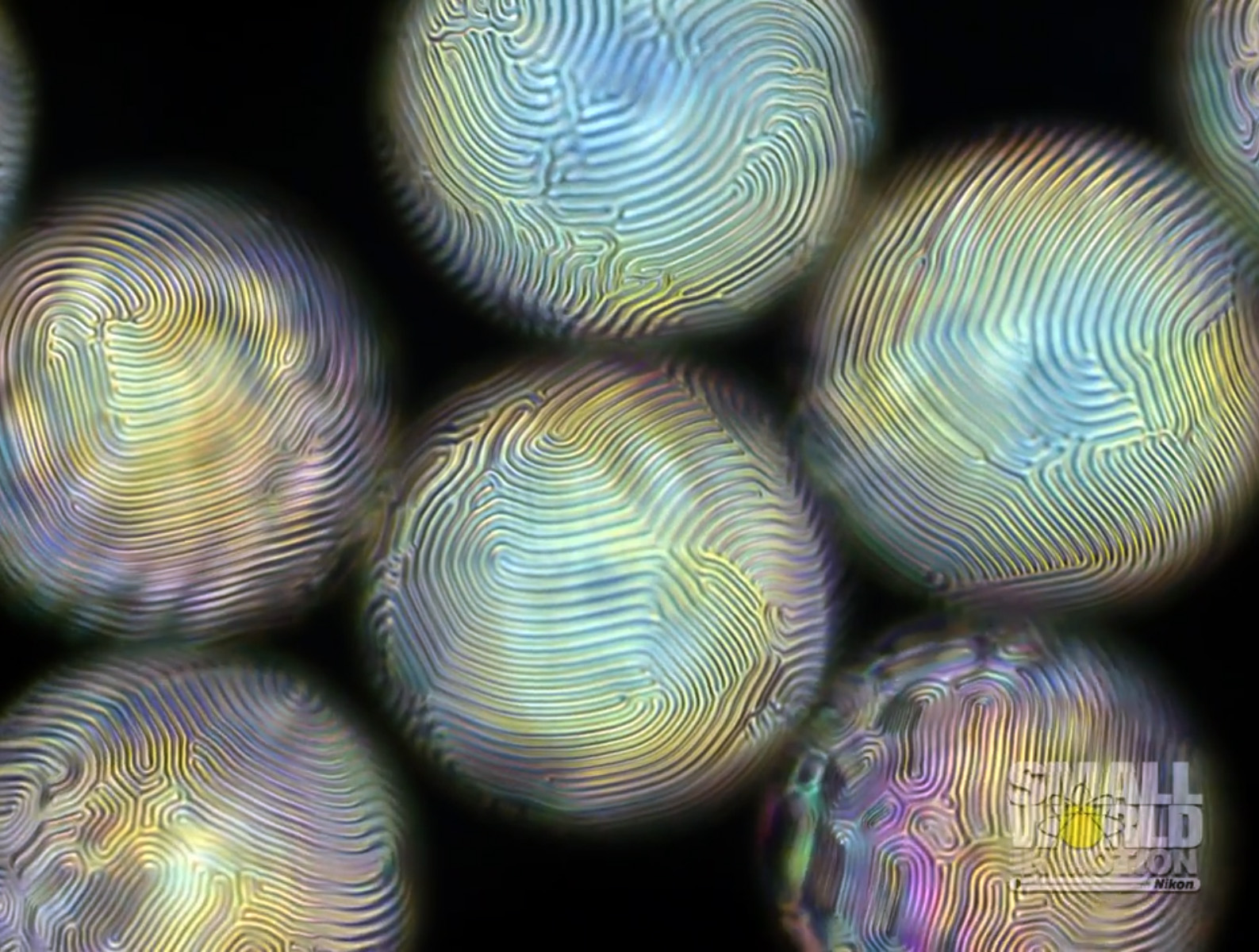 This video is of cholesteric liquid crystal double emulsions, with water in the inner and outer phases, and cholesteric liquid crystal in the middle phase. The inner water phase has excess salt, which causes the emulsion to swell over time, thinning out the liquid crystal shell. Surfactant is added into the outer water phase, and as the surfactant absorbs onto the liquid crystal-water interface, the cholesteric responds to the surfactant by forming stripes on its surface. The stripes continue to evolve as the shell thins due to the emulsion swelling.
more information
---
Collaboration demonstrates a new amorphous packing of organic molecules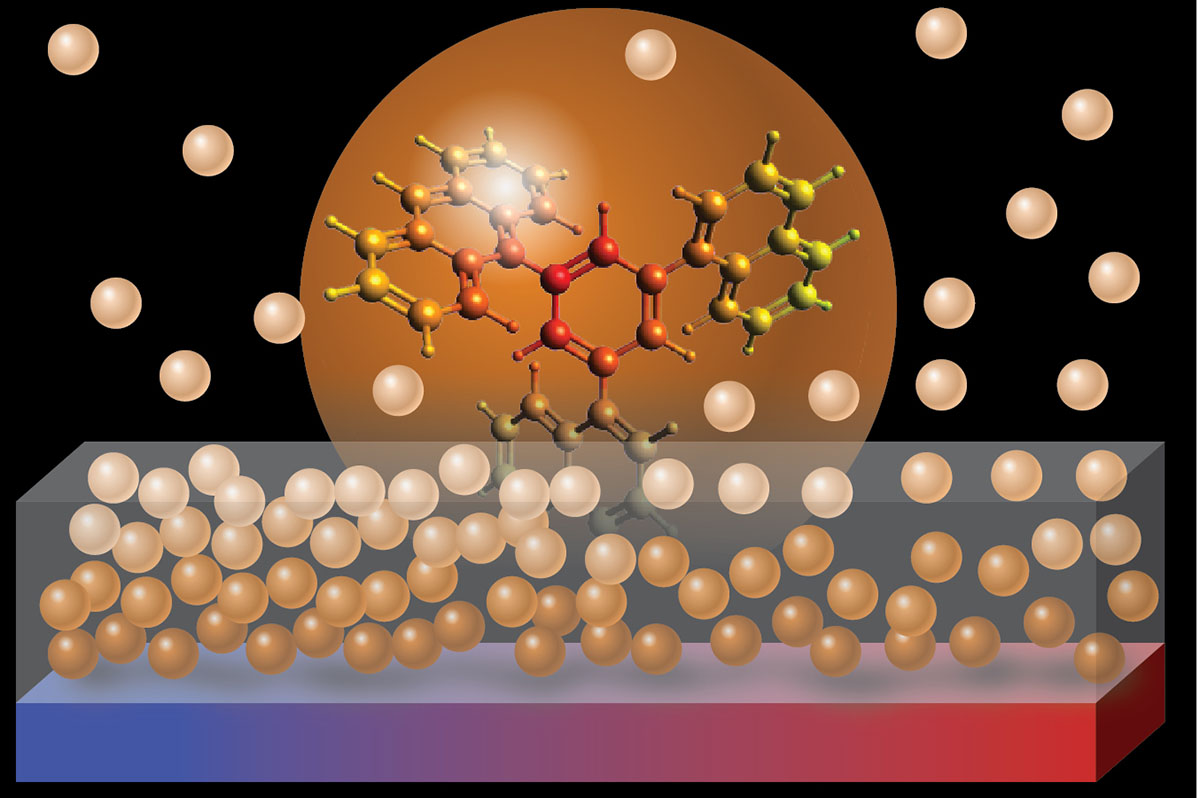 Stable glasses, disordered solids, are prepared by depositing molecules from a vapor phase onto a cold substrate. Stable glasses are typically birefringent, meaning that the index of refraction of light is different in the directions parallel and normal to the substrate. In most systems this is a result of molecules aligning in a particular direction as they condensate from the vapor phase into a deep glassy state. As such, if a molecule is spherically shaped, one would not expect to observe birefringence.
In a new study, Penn researchers Zahra Fakhraai, Patrick Walsh, James Kikkawa, and Joseph Subotnik designed a spherically shaped molecule and demonstrated that despite its round shape, the molecule can produce birefringent glasses upon vapor deposition. Through a series of experiments, graduate students Tianyi Liu and Annemarie Exarhos demonstrated that the birefringence in this system is due to the layer by layer nature of the deposition that allows molecules to pack more tightly in the direction normal to the surface during the vapor deposition. The denser the glass, the higher the value of birefringence. This process can be controlled by changing the substrate temperature that controls the degree of densification. This novel amorphous packing provides an opportunity to reveal fundamental properties of glasses at low energy states, a long standing question in solid state physics. This study was funded by National Science Foundation grants DMR-11-20901, DMR-1206270, CHE-1152488 and DMREF-1628407.
news release
---
LRSM Science Camp Expands Opportunities for Philadelphia Middle Schoolers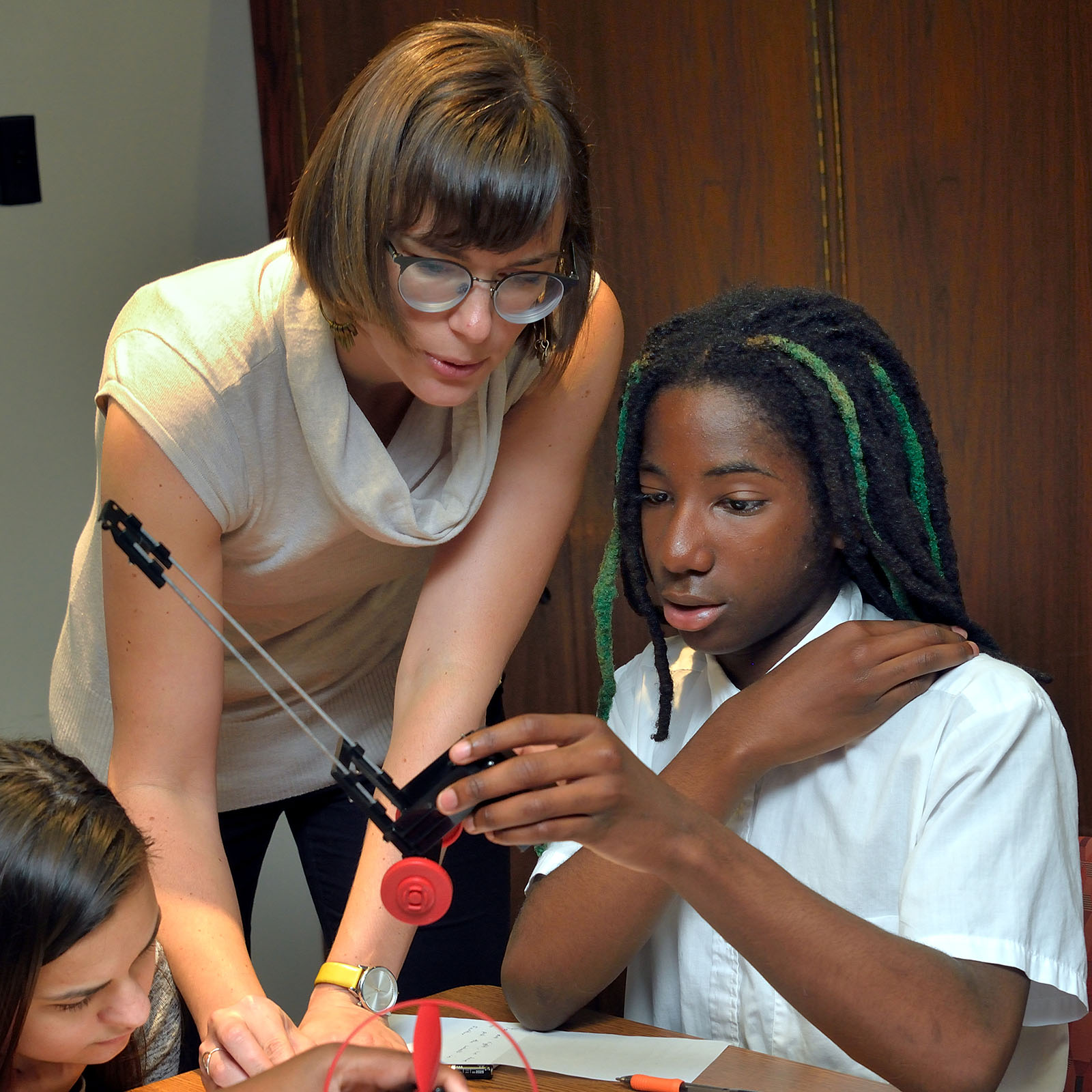 Since 2011, 7th grade students from Girard College, a boarding school for low-income students from single-parent homes, have spent a week at the LRSM learning about science, technology, engineering, and materials. This summer, for the first time, students from the Pennsylvania School for the Deaf joined the camp. In addition to science and college exposure, this new partnership created novel opportunities for students from both schools to form friendships across lines of difference.
news release
---
Alison Sweeney Identifies How Squid Have Evolved to See in Dim Ocean Water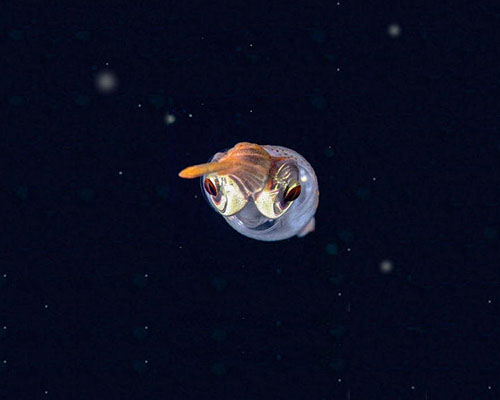 Alison Sweeney, Paul Heiney, postdoc Jing Cai and graduate students James Townsend and Tom Dodson of the School of Arts & Sciences have provided a detailed look into how self-assembled lenses allow squid to see in the dim waters of the ocean. This may one day allow researchers to understand the fundamental principles of self-assembly and to engineer better nanomaterials.
press release
---
Ultra-Small-Angle to Wide-Angle Dual Source X-ray Scattering Instrument for SEF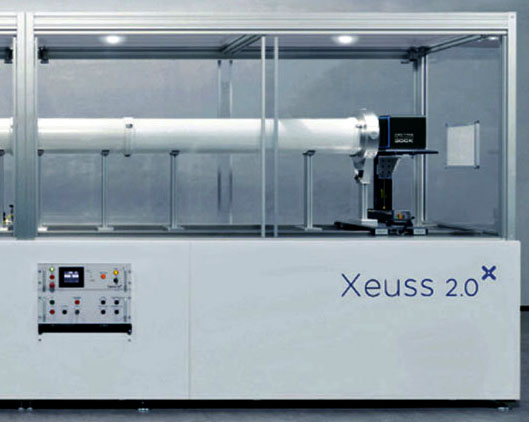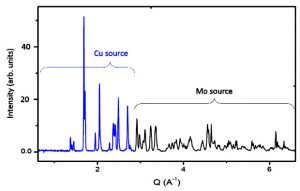 The X-ray scattering shared experimental facility (SEF) within the LRSM is about to undergo a dramatic transformation via purchase of a Xeuss 2.0 from Xenocs.  Briefly, the new instrument provides structural information at both high and low spatial resolution across a wide range of length scales (0.09 to 600 nm) and thus facilitates study of hierarchical structures in a wide range of hard and soft materials. Further, by incorporating dual sources (Cu and Mo), two solid-state detectors, a stage for grazing incidence, and various sample environments for in situ and operando studies, we anticipate that the impact of this new instrumentation on local materials research and education will be immense. The instrument will advance research on the synthesis, fabrication, processing, and assembly of a wide range of materials systems, and will provide crucial insight about structure relevant to their chemical, electrical, magnetic, mechanical, optical, thermal, and transport properties. The facility will also be integrated into courses at Penn, the outreach activities of the LRSM, and workshops and online training materials are planned to promote its broad use by beginners and to fully develop expert-users. 
This major investment was made possible by a recent NSF – MRI grant award (PI:  Yodh, co-PIs:  Detsi, Fakhraai, Heiney and Winey), with matching funds from the LRSM and Penn Engineering.  In addition, the detector will be further improved by resources derived from an ARO-DURIP grant (PI:  Winey)
more information
---
Penn Collaboration Produces Surprising Insights Into the White Spots on Butterfly Wings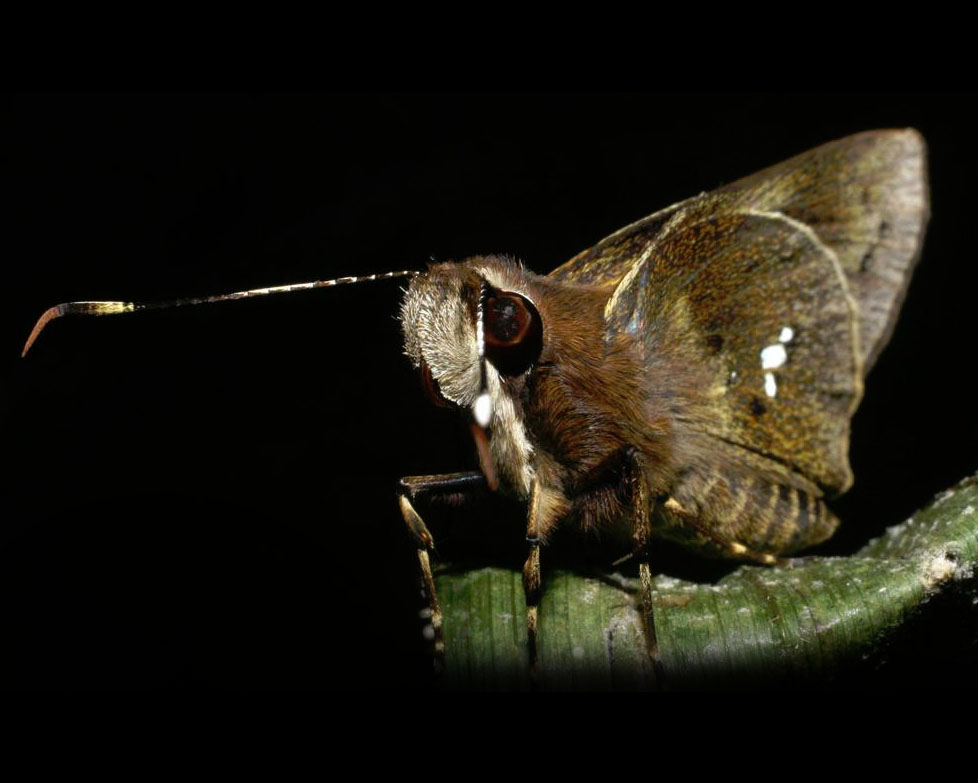 A collaboration between biologists and materials scientists at the University of Pennsylvania is yielding new insights into the whiteness on the wings of the "skipper butterfly", a dusk-active and shade-inhabiting Costa Rican rain forest butterfly. They identify two types of whiteness: angle-dependent and angle-independent. They speculate that the biological functions and evolution of Carystoides spot patterns, scale structures, and their varying whiteness are adaptations to the butterfly's low light habitat and to airflow experienced on the wing base versus wing tip during flight.
Note that there is no pigment for "whiteness." Indeed, structural whiteness is technologically important in systems ranging from power efficient computer displays, to sensors, to energy efficient buildings, windows, and vehicles.
news release
---
In Memory of Elias 'Eli' Burstein
The LRSM lost one of its most distinguished members, Elias 'Eli' Burstein, on Saturday, June 17, 2017.  He was 99 years old, only three months short of a century. Eli, Professor of Physics and Astronomy at Penn since 1958, was the grand old man of the Penn materials community. It was he, along with Bob Hughes, Chemistry, Bob Madden, Metallurgy, and Norm Hixson, Associate Dean of Engineering, who founded the LRSM in 1960, as an academically unique, interdisciplinary materials research laboratory. They obtained the first grants for the LRSM from the Department of Defense, and starting in 1972, the materials center has garnered funding support continuously from the National Science Foundation. Eli graduated from Brooklyn College in 1938 and took graduate courses at MIT and Catholic University, but his doctoral studies were interrupted by WWII, although he subsequently obtained four honorary doctorates. He retired in 1988 as Mary Amanda Wood professor of physics and remained active as professor emeritus until he died.
Eli was extremely prolific in a career that spanned seven decades. He did it all. He worked on fundamental studies of infrared photoconductivity in silicon and germanium, and he carried out ground-breaking research on semiconductors, insulators, metals, and two-dimensional electron plasmas in semiconductors. Much of this work improved our understanding of optical properties in the solid state. In his later years at Penn, Eli was known for his work on SERS, Surface-Enhanced Raman Scattering; these SERS ideas continue to influence researchers in present-day metamaterials. Finally, near the end of his career, Eli was deeply engaged in understanding optical properties of fullerenes (buckyballs) and other carbon structures.
Eli trained well over 40 graduate students and post-doctoral fellows, many of whom have had very distinguished careers of their own. He also encouraged dissemination of scientific knowledge by organizing international meetings, conferences, symposia, workshops, and through the literature as Founding Editor of the journal Solid State Communications, being editor-in-chief 1963-1992. Among his many honors, he was elected to the National Academy of Sciences (1979), and he received the John Price Wetherill Medal from the Franklin Institute, the Frank Isakson Prize from the American Physical Society, and a Guggenheim Foundation Fellowship. He was also a Fellow of the American Physical Society, the Optical Society of America, and the American Association for Advancement of Science.
At the LRSM, we have enjoyed his company at our annual "Burstein Lecture," named in his honor. Eli is survived by his wife of 73 years, Rena, three daughters, Joanna Mitro, Sara Donna, and Mimi Burstein, and grandchildren, Graham and Susanna Mitro.  He will be missed.
If you are interested in learning more about Eli's life, please explore the following links:
https://en.wikipedia.org/wiki/Elias_Burstein#Honors
https://www.nytimes.com/2017/06/25/science/elias-burstein-dies-physicist.html
more information
---
18th Mid-Atlantic Soft Matter (MASM)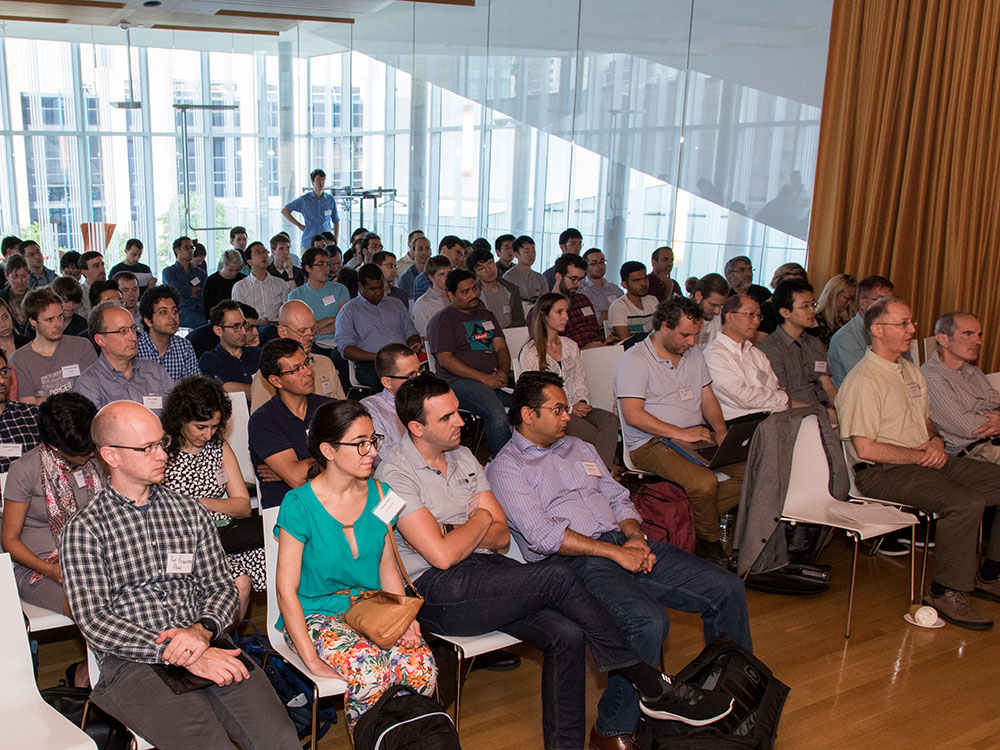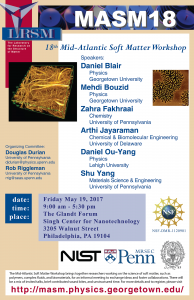 LRSM co-sponsored the 18th Mid-Atlantic Soft Matter (MASM) meeting at Penn, May 19, 2017. The meeting hosted local invited speakers from Georgetown University, Lehigh University, the University of Delaware, and the University of Pennsylvania. It also featured more than 60 contributed sound-bite talks largely from students and post-docs in the mid-Atlantic region. Doug Durian and Rob Riggleman organized the workshop.
more information
---
LRSM Co-founder Dr. Robert E. Hughes Passes at Age 92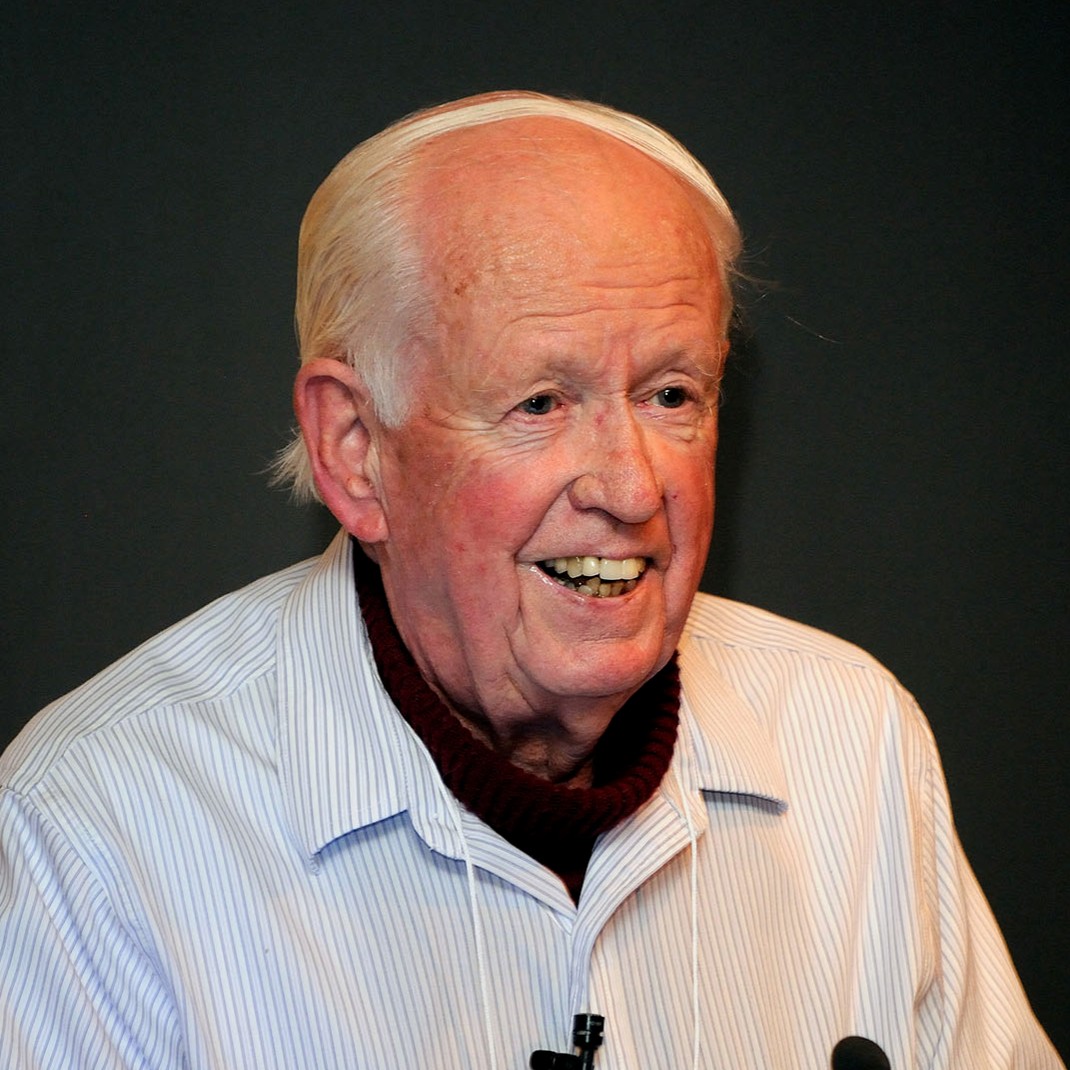 Prof. Robert E. (Bob) Hughes, passed away on April 2, 2017, age 92, at his home in Virginia after a long and distinguished career. We knew him best as professor of Chemistry at Penn, from 1953-64 during which time he was instrumental in establishing the LRSM in 1960. Following DARPA's request for proposals for an interdisciplinary materials research program in 1959, after the Soviet Union's successful launch of Sputnik, he was appointed to a committee that included Robert Maddin, Metallurgy, Elias Burstein, Physics, and chaired by Norm Hixson, Associate Dean of Engineering, to write the successful grant proposal that funded the LRSM. One of the most controversial decisions to be made was that of naming the lab. Burstein wanted 'condensed matter physics' in the title and Maddin wanted 'structure of materials' in the title. Bob Hughes solved the problem by giving it the everlasting and somewhat grandiose title, the Laboratory for Research on the 'Structure' of 'Matter', thus satisfying both. He returned to the LRSM in 2012 to help celebrate the 50th anniversary of the lab and stated that he always loved his time at the University of Pennsylvania. On leaving Penn in 1964, he returned to his alma mater, Cornell, where he was director of their Materials Science Center from 1968 to 1974. Subsequently, he became the Assistant Director of the National Science Foundation (NSF) from 1974 to 1976 and President of Associated Universities Incorporated (AUI), which administered Brookhaven National Laboratory, from 1980 to 1997. Further details of his career can be found in his obituary at http://www.loudountimes.com/news/obituary/dr._robert_e._hughes
more information
---
Penn Engineers Report First Colloidal Crystals with Diamond Structure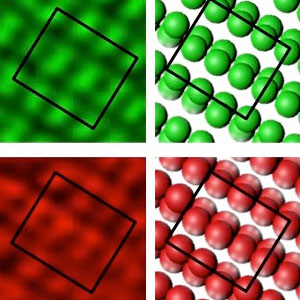 A long-standing goal in material science is to create a material with a complete photonic bandgap, in which light would propagate in a manner analogous to the flow of electrons in a semiconductor. This requires the creation of a very challenging three-dimensional microstructure: an ordered periodic array of highly refractive sub-micron particles arranged so as to mimic the structure of carbon atoms in a diamond crystal. It has long been an elusive goal to form such structures by self-assembly, for example using the ability of colloidal microspheres to spontaneously form into colloidal crystals. Penn researchers John Crocker and Talid Sinno lead an NSF funded project that forms novel colloidal crystals from polymer microspheres covered in interacting DNA strands, and which draws upon technology originally developed by an earlier MRSEC project. Their graduate student Yifan Wang serendipitously discovered the diamond structure crystals in recent experiments, and the results are published in Nature Communications. While significant challenges remain to turn the discovery into an bandgap material, self-assembling the diamond crystals is a significant breakthrough. The occurrence of the diamond crystals is unexpected theoretically, and forming them in simulation has also proven elusive; the team conjectures that the crystals form via the transformation of another, yet undiscovered parent crystal.
news release
---