Recent News
The LRSM Building Recreated in 'Minecraft'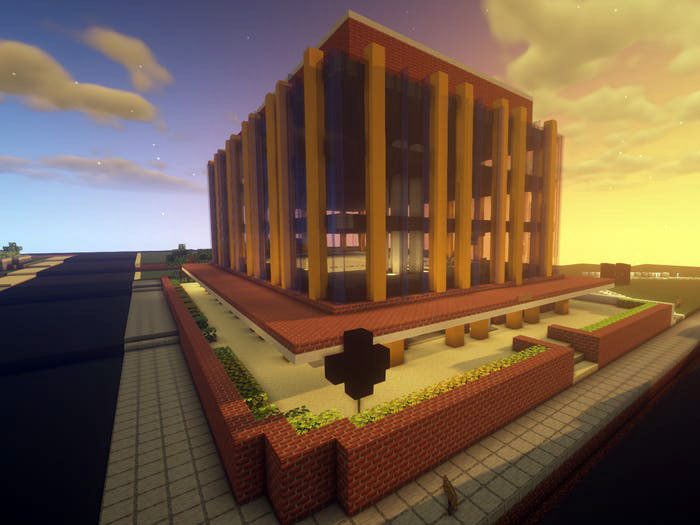 This image of the LRSM was built by Ben Hammel and Randy Chen (screenshot by Makarios Chung) for Penn "Minecraft." A group of Penn students set up a Minecraft server and coordinated recreating the campus together over the last two weeks of March. Junior Andrew Guo first came up with the idea for a virtual Penn campus inspired by news of a Japanese elementary school graduation on "Minecraft." The Penn students also interacted with other students at Columbia University and Brown University who were working on similar projects to set up possible Hunger Games-like challenges between schools.
read more
---
Recent Journal Covers Highlight MRSEC Activity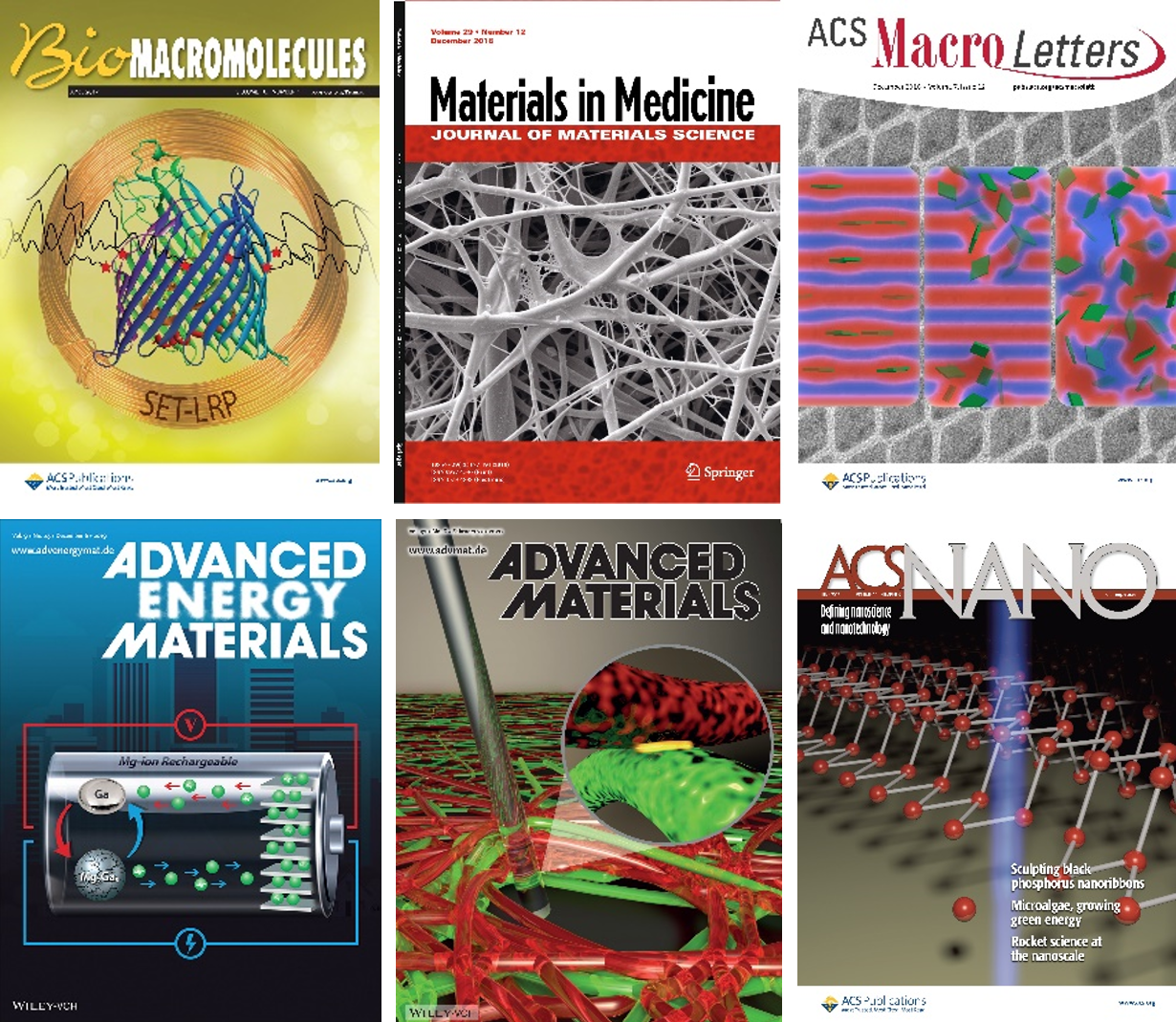 LRSM research is often made visible by cover images on technical journals. This slideshow highlights recent covers from research in the LRSM community. The research leading to these cover images are all based on MRSEC support, including direct support and MRSEC support for Shared Experimental Facilities.
more information
---
10th Annual Philly Materials Science and Engineering Day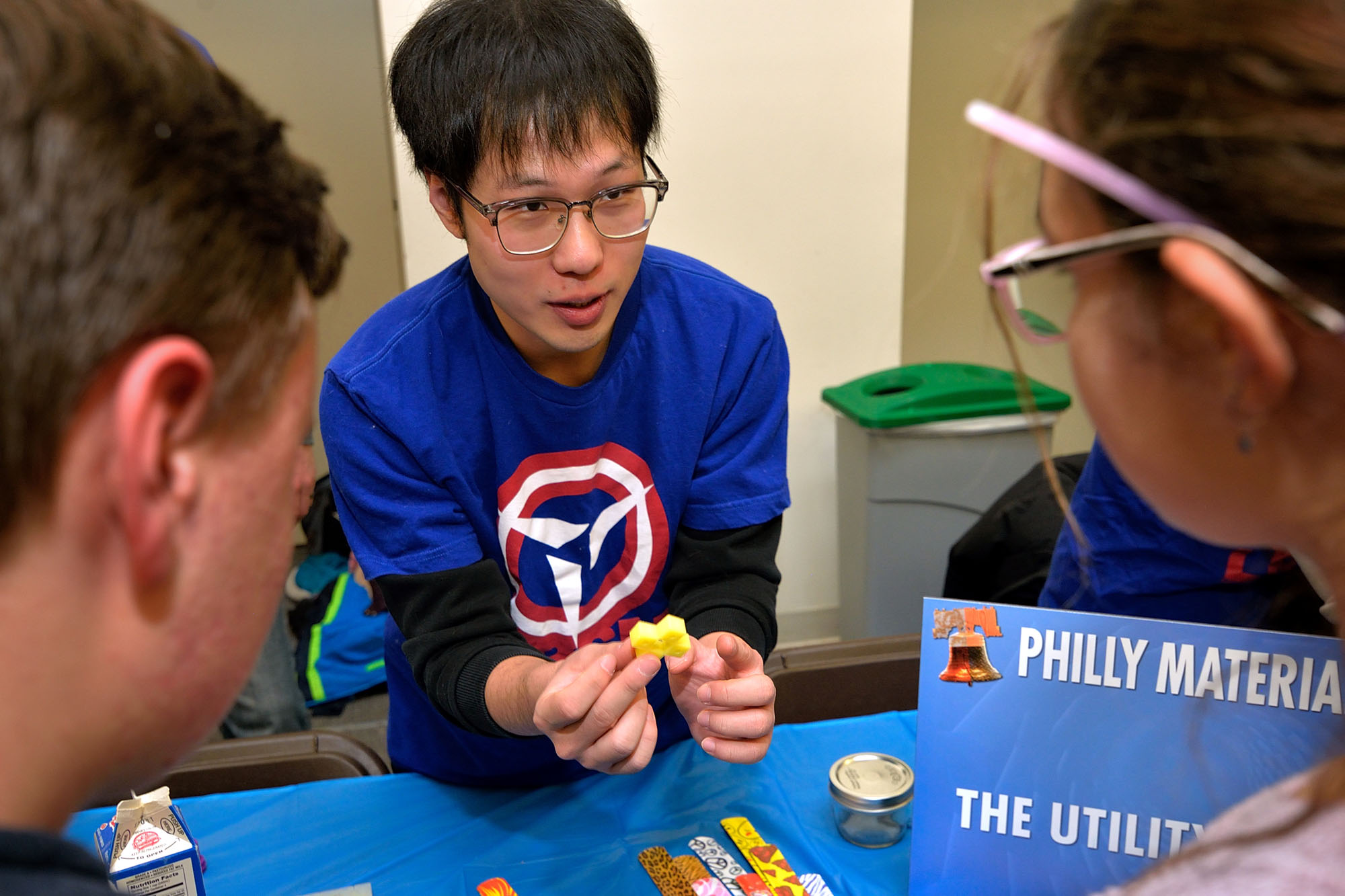 Saturday, February 1st, 2020 saw the 10th annual Philly Materials Science and Engineering Day, a day-long festival hosted by Drexel University Materials Science department and the Penn MRSEC. This event has been held annually since 2011 with an average annual attendance of 900+ people. This year, volunteers taught Materials Science concepts to elementary and middle school-aged students and their families with hands on demonstrations and workshops. For example, MEAM professor, Jordan Raney, demonstrated the utility of instability while PhD candidate Daniel Rosen, from Chris Murray's MSE lab, illustrated the super-elastic phenomena of shape-memory alloy using a coil of NiTinol. Nearly half of the Philly Materials Day demo tables were staffed by 70+ graduate students, undergraduate students, and faculty from 15 LRSM-affiliated groups.
more information
---
Reconfigurable Nematic Liquid Crystal Drops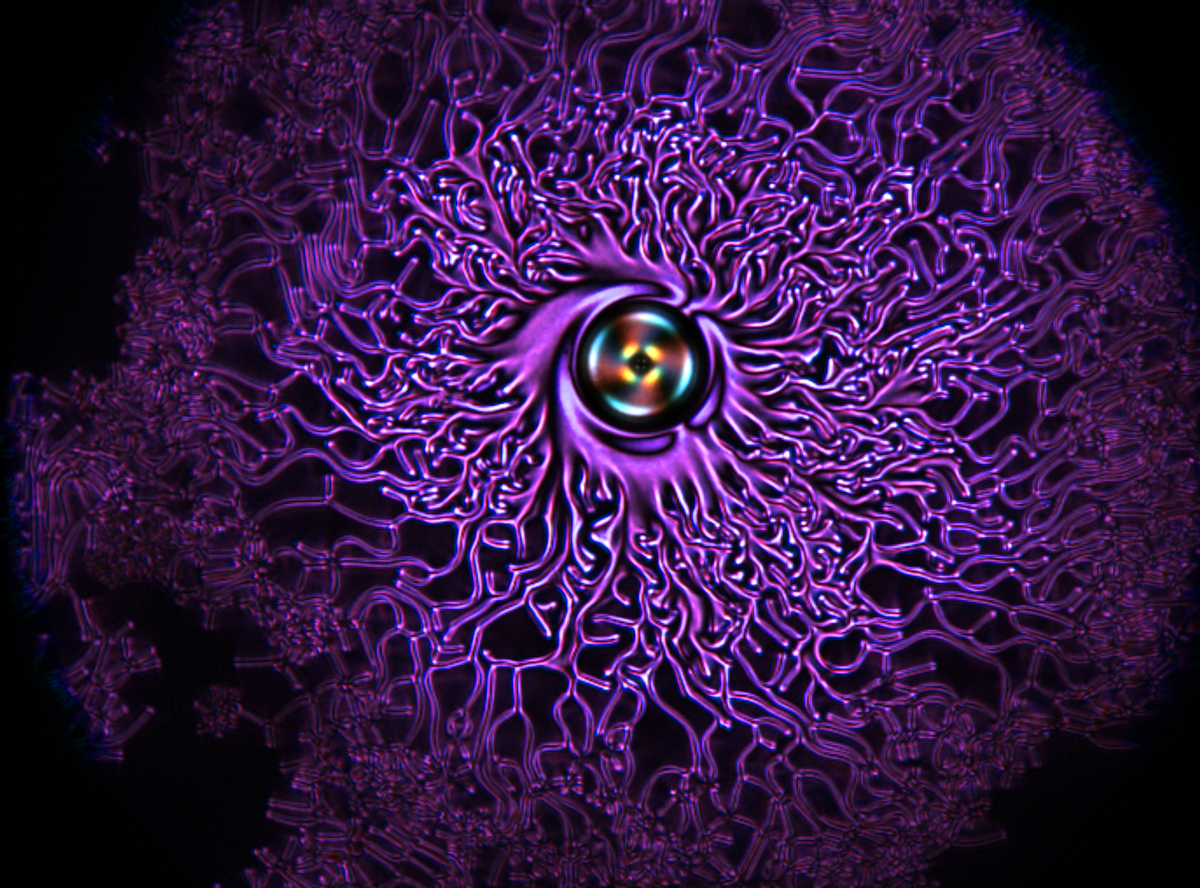 A study from MRSEC IRG-3, recently published in Nature, reports on reversible shape transitions of spherical drops containing liquid crystals into a rich variety of non-spherical drop morphologies with unique internal structure. The collaborative work was carried out by graduate students Wei-shao Wei and Sophie Ettinger and PhD alum Yu Xia, in the labs of Arjun Yodh and Shu Yang. The unexpected discovery provides new understanding about how molecular polydispersity—a condition where the lengths of liquid crystal molecules vary widely—can drive simple droplets to change into unusual shapes. Observations and modelling reveal that chain length polydispersity plays a crucial role in driving these morphogenic phenomena, via spatial segregation. This insight suggests new routes for encoding network structure and function in soft materials.
news release
---
Compression Leads to Stiffening in Tissues But Not Biopolymer Gels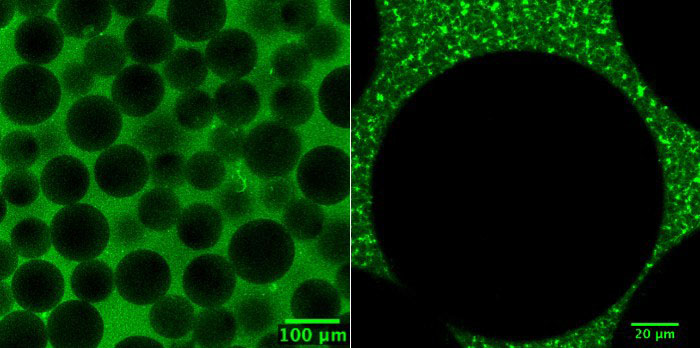 Even though the cells in soft tissue contain network of filamentous polymers and are imbedded within extracellular matrices made from chemically distinct but physically similar polymers, they respond differently to compression and stretch compared to the polymer networks alone. Work by two groups within the MRSEC reveal that this difference arises when volume conserving cells are placed in a filamentous network and constrain the way these networks can reorient when the system is deformed. This work,led by Paul Janmey, Professor in the Perelman School of Medicine's Department of Physiology and in Penn Engineering's Department of Bioengineering, and Vivek Shenoy, Eduardo D. Glandt President's Distinguished Professor in Penn Engineering's Department of Materials Science, resulted from extensive use of instrumentation in the viscoelastic characterization lab in the LRSM and on experimental and theoretical work supported by the MRSEC.
press release
---
LRSM Team Creates and Understands Novel Chiral Microparticles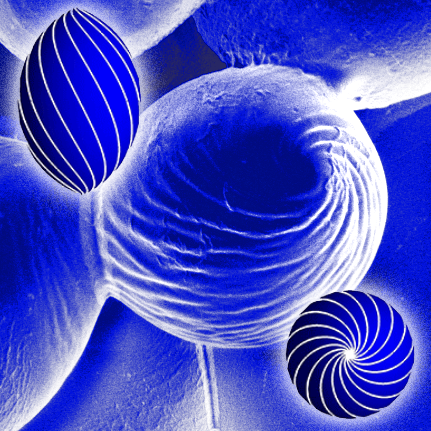 Helen Ansell, Dae Seok Kim, Eleni Katifori, and Randall Kamien are part of a team that studied the spontaneous formation of chiral microparticles with submicron features. The surface structure is stabilized by liquid crystalline order in the initial spherical droplets. Using a combination of analytic and computational techniques, the team established that the patterns on the surface corresponded to loxodromes — paths of constant angle with respect to the lines of longitude. The work, published in Physical Review Letters, is the latest in a string of interdisciplinary success by the IRG on Pluperfect materials. The LRSM has had a long history of mixing chemistry, materials, and physics and continues to do so.
news release
---
An Authentic Research Experience for Undergraduates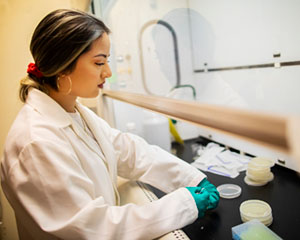 Angelica Padilla recently participated in the LRSM's NSF-supported Research Experience for Undergraduates (REU) program. The program dates back to 1988 and has seen almost 700 participants. The 10 week summer program immerses students in hands-on research, supervised by a faculty member associated with the LRSM. Each student works on independent research projects and adopts similar roles as graduate students, thereby giving them an authentic research experience. Angelica, a senior chemical and biomolecular engineering student at Penn, worked in Paulo Arratia's Complex Fluids lab where she studied active fluids. Here, she shares her experience.
news release
---
J. Robert Schrieffer: The LRSM's first Nobel Laureate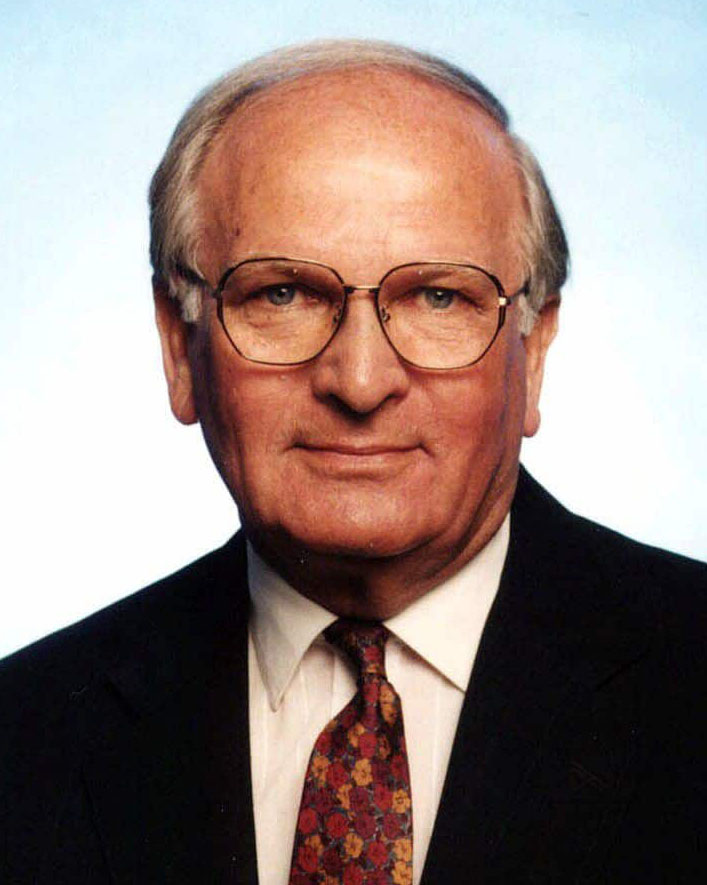 John Robert 'Bob' Schrieffer died on July 27, 2019 in Tallahassee, Fl., at the age of 88. Bob was the first of five Nobel Prize winners working at the LRSM when, in 1972, along with John Bardeen and Leon Cooper, he won it for their Theory of Superconductivity, conventionally known as the BCS Theory. Bob said that he had the breakthrough idea (as a graduate student) on the New York Subway while attending a conference in early 1957 — strokes of genius can occur anywhere at any time. Born in Oak Park, IL, Bob studied electrical engineering at M.I.T. for two years before switching to Physics and graduating in 1953. He completed his Ph.D. at U. Illinois with John Bardeen in 1957. He spent almost 20 years as a distinguished member of the Physics Department at the University of Pennsylvania, 1962-80; during this entire period he was a key member in defining the activities of the LRSM and its ARPA- and NSF-funded materials center. Among other contributions, he helped develop the Su-Schrieffer-Heeger model for polyacetylene, including its topological solitons, and he also did important work on surface science and chemisorption before leaving Penn to become Director of the Theoretical Physics Institute at UC, Santa Barbara. In 1992, Bob moved to the National High Magnetic Field Laboratory at Florida State University in Tallahassee, where he was the lab's chief scientist. He received other honors, such as the National Medal of Science in 1983, and he served as president of the American Physical Society in 1996.
news release
---
Gene Mele Elected to the National Academy of Sciences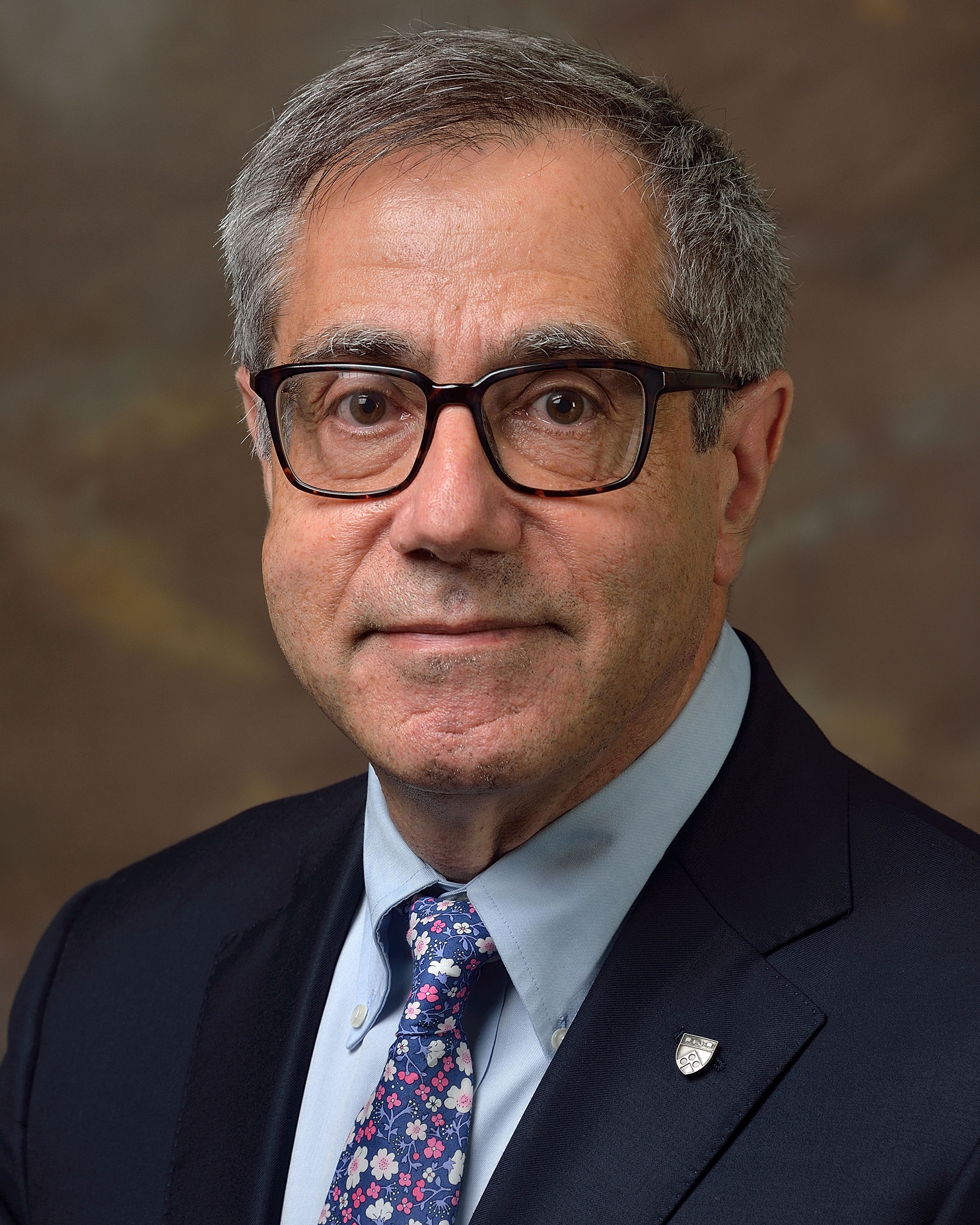 Congratulations to our friend and colleague Eugene J. (Gene) Mele,  Christopher H. Browne Professor of Physics and Astronomy, who has just been elected a member of the National Academy of Sciences (2019).  Gene is best known for his work, with Charles Kane, on topological insulators. Additionally however, for almost 40 years, Gene has been a key contributor to the LRSM community, especially to our NSF MRL and MRSEC centers. Amidst this "other" important research are extensive theoretical contributions to LRSM efforts on carbon nanotubes and buckyballs, graphene, and many aspects of surface science. Gene was also awarded the Breakthrough Prize in Fundamental Physics (2019), the Franklin Medal (2015), and the Europhysics Prize for CMP (2010).
news release
---
Robert Maddin: A Founding Father of the LRSM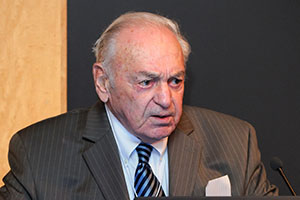 Robert Maddin, one of the four founders of the LRSM, died on March 3, 2019 at age 100. Bob was born in Hartford CT in 1918. He graduated from Yale with a doctorate in engineering in 1948, and he joined the Metallurgy department at Penn in 1955, just after it formed, as Professor of Metallurgy and Director of the School of Metallurgical Engineering, a position he held until 1972. In January, 1973 he was appointed University Professor, a position he held until his retirement in 1983. Along with Eli Burstein, Robert Hughes, and Norman Hixson, he was responsible for the creation of the LRSM in 1960. He was a member of the LRSM Executive committee and was well known for his work on mechanical properties, phase transitions, and defects in metal single crystals, alloys, and metallic glasses. He was also department chair of Materials Science and Engineering (formerly Metallurgy) from 1972-83. In 1983 he joined Harvard as a professor of Anthropology, worked on ancient metallurgy, and was also a curator in the Peabody Museum. The LRSM will continued to honor and remember him, as it has for many years, through sponsorship of the Maddin Lectures which bring prominent materials researchers to Penn.
related
---
Christopher B. Murray Elected to the N.A.E.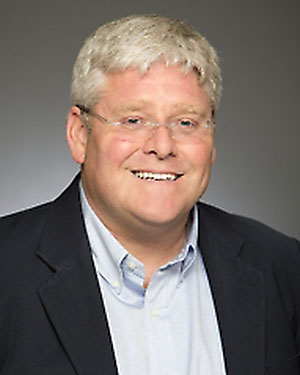 We congratulate Christopher Murray, Richard Perry University Professor and Professor in the Departments of  both Materials Science and Engineering, and Chemistry as a Penn Integrates Knowledge faculty member. Chris has just been elected to the National Academy of Engineering (NAE) "for invention and development of solvothermal synthesis of monodisperse nanocrystal quantum dots for displays, photovoltaics, and memory." Chris is an intellectual leader in the MRSEC, especially as a core contributor to both of our nanocrystal IRGs during the last two funding cycles (links below).  Chris has also been a strong participant in our education and outreach efforts, including the PREM program with the  University of Puerto Rico. His scientific contributions include (but are not limited to) the development of nanocrystalline materials broadly defined, for example the creation of "artificial atoms" — nanocrystals or quantum dots — that self-assemble into devices with completely new multi-functionalities.
IRG3: Pluperfect Nanocrystal Architectures
IRG4: Controlled Function in Inter-dimensional Materials (2011-17)
news release
---
Former LRSM Director, Donald N. Langenberg, Passes, January 25, 2019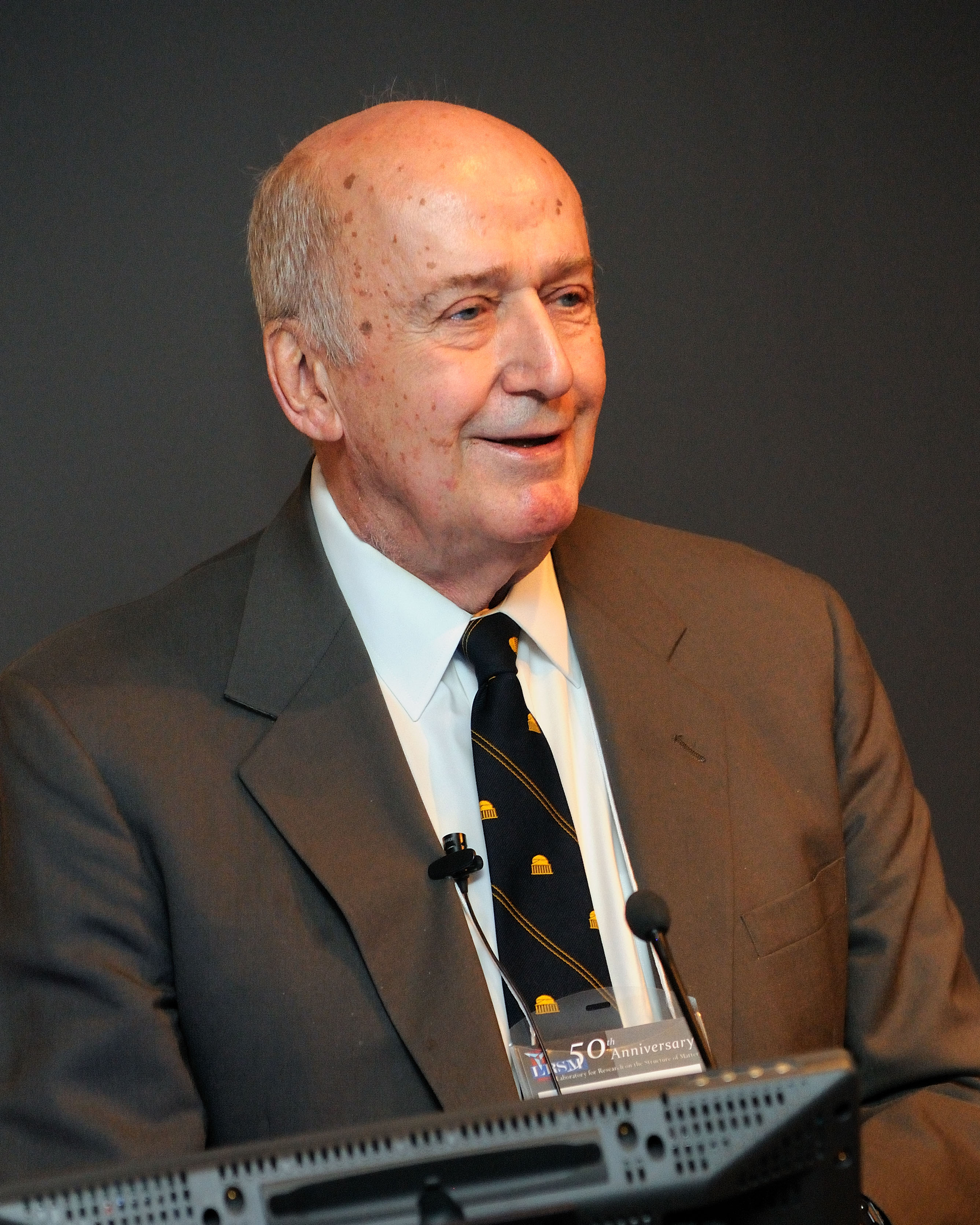 Donald Newton Langenberg (image taken at the LRSM 50th Anniversary Symposium, 2012)
The LRSM recently lost an old friend and former Director, Don Langenberg, who passed away on January 25, 2019 at age 86. Don joined the Physics department at Penn in 1960, where he specialized in low temperature solid state physics, specifically focusing on electronic band structure in metals and semiconductors. He later carried out classic experiments on quantum phase coherence and non-equilibrium effects in superconductors for which he became a world authority. In 1972 he became director of the LRSM. This was an important time, in part because the source of LRSM funding was changing from ARPA to NSF. Don led the effort to garner our first major center funding from the NSF, through the so-called Materials Research Lab (MRL) program. The LRSM Director position, which he carried out with aplomb, was his first foray into administration and represented the beginning of a highly successful transition to administration (broadly defined). In 1974 he was appointed vice-provost for graduate studies and research at Penn and from 1974-77 was member of the Advisory Committee on Research of the NSF. From 1975-80 he was a Trustee of Associated Universities before becoming Acting Director of the NSF, 1980, and Deputy Director 1980-82. In 1983 he became Chancellor of the University of Illinois, Chicago, 1983-1990, and then Chancellor of the University of Maryland System, 1990-2002, after which he became Chancellor Emeritus on his retirement.
Among Don's other achievements: he was a Trustee of Penn ,1990-2000, President, American Association for the Advancement of Science,1991, Chair, Board of Directors, National Association of State Universities and Land-Grant Colleges, 1991, and President of the American Physical Society, 1993. Other awards he has received include the John Price Wetherill Medal of the Franklin Institute and the Distinguished Contribution to Research Administration Award of the Society of Research Administrators, in addition to honorary degrees from several universities.
more information
---
Mele & Kane Winners of the 2019 Breakthrough Prize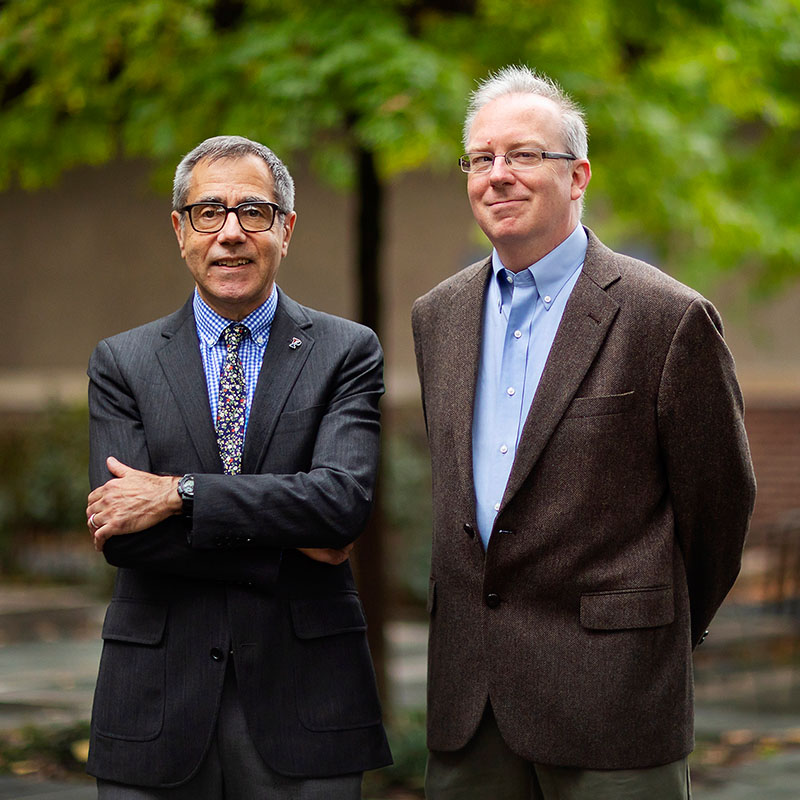 Physicists Eugene Mele and Charles Kane of the School of Arts and Sciences are being recognized for their innovative work on topological insulators. Kane and Mele have been named winners of the 2019 Breakthrough Prize in Fundamental Physics and will share the $3 million award "for new ideas about topology and symmetry in physics, leading to the prediction of a new class of materials that conduct electricity only on their surface."
Kane, the Christopher H. Browne Distinguished Professor of Physics, and Mele, also Christopher H. Browne Distinguished Professor of Physics, both in the Department of Physics and Astronomy, have long collaborated, sharing ideas and predictions in their field of condensed matter physics. Their theoretical contributions introduced a new class of materials known as topological insulators. These materials have the unique characteristic of being electrical insulators on their interior, but have surfaces that are unavoidably conducting.
more: Penn Today news item on Kane & Mele accepting their award.
related: BBVA Foundation Frontiers of Knowledge Award
news release
---
State-of-the-Art X-ray Scattering Instrument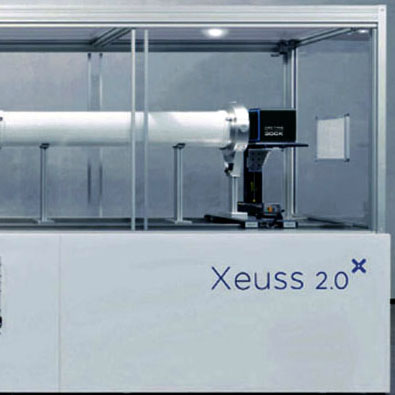 In the Spring of 2018, a a brand new instrument for measurements, funded by an NSF-MRI grant with matching support from LRSM and SEAS (and additional building renovations funded by SAS, SEAS, and the Provost) was installed in the LRSM.
The DEXS instrument ("Dual Source and Environmental X-ray Scattering") incorporates a Xeuss 2.0 small-angle system with Cu and Mo X-ray sources and adjustable sample-detector distances from 7 cm to 6.3 m. This provides scientists with an unprecedent capability to measure structures of materials from the subnanometer to the micron scale on the same instrument. Once the sample is placed in the instrument, all aspects of the measurement are computer-controlled, including collimation and choice of source. The DEXS instrument is also equipped with a wide variety of sample environments and special configurations, including controlled temperature, humidity, grazing incidence, and measurements under tension.
The instrument was commissioned and tested during the summer of 2018, and is now being used by research groups in Materials Science, Physics, and Chemistry, as well as outside academic and industrial users. Anticipated applications of the research being conducted using this instrument include nanoporous metals for energy storage, nanocrystals for light harvesting, polycarbonates in ionic liquids with tunable chemical reactivity, and a variety of others.
---
$500K Award for New SUPERSeed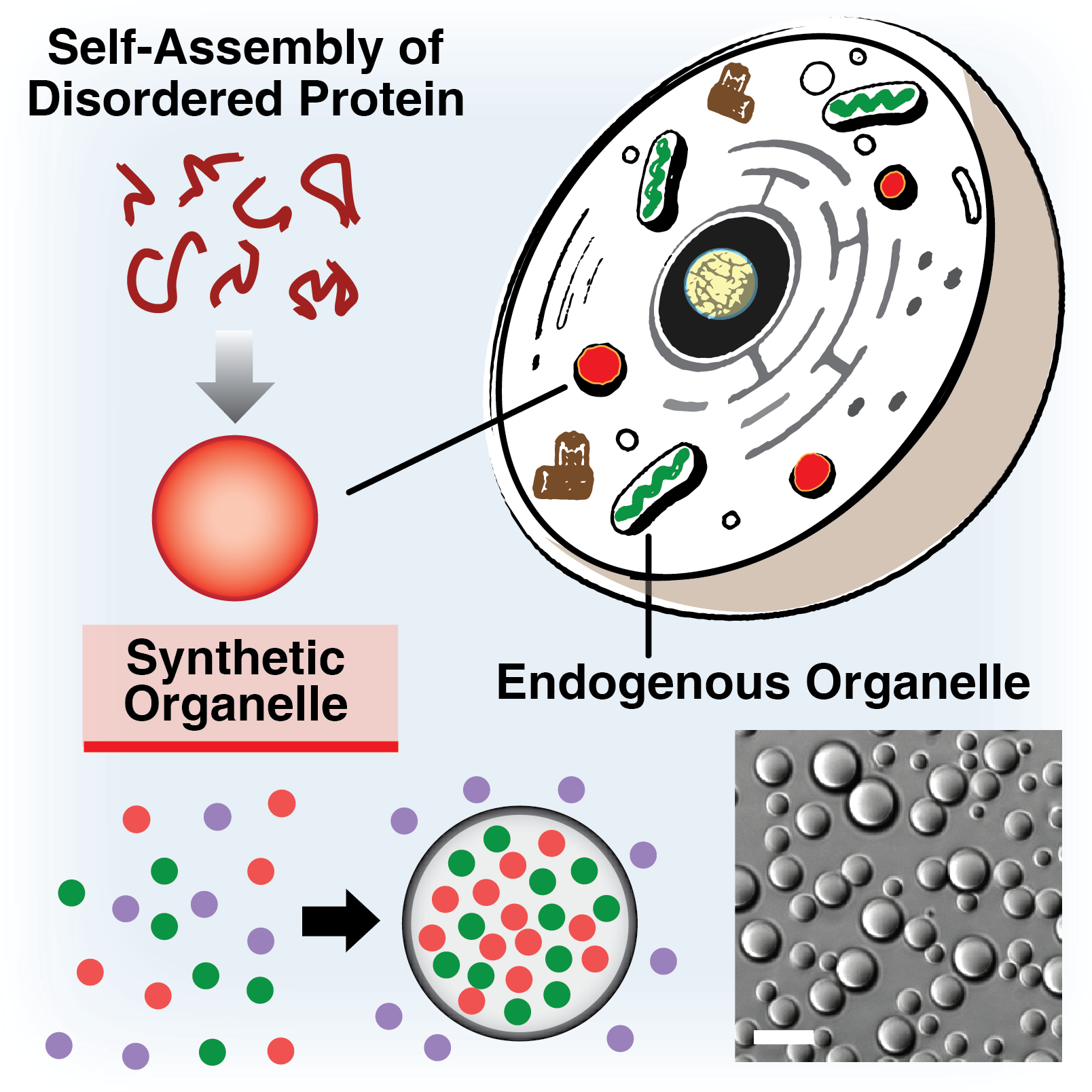 The NSF awarded the Penn MRSEC funding ($500K) for a brand new SUPERSeed, entitled Membraneless Organelles with Designed Function from Engineered Assemblies of Intrinsically Disordered Proteins. The objective of the SuperSeed is to construct genetically-encoded materials that predictively self-assemble into micron-size liquid condensates in vitro, and in cells via coacervation of intrinsically disordered proteins (IDPs). The SuperSeed is led by Matthew Good (Cell and Developmental Biology, Bioengineering) and Elizabeth Rhoades, (Chemistry). They will be collaborating with Daniel Hammer and Daeyeon Lee (Chemical and Biomolecular Engineering) and Jittain Mittal (Lehigh University). The proposed studies leverage team expertise on intrinsically disordered proteins and principles of molecular self-assembly to construct mesoscale structures inside living cells. By integrating computational design and experimentation this team will develop rules that govern the assembly of nanoscale IDPs into organelles. Additionally, synthetic organelles will be engineered to sense the environment and regulate cellular decision-making, thereby mimicking and extending the rules of life that underlie cellular organization. This Penn collaboration was among the winners of  highly competitive summer SuperSeed competition spanning all MRSECs (34 submissions).
---