April 5 – May 3, 2014
Andrew R. McGhie and Mark Licurse
PSF KICK-OFF PARTY: SCIENCE CARNIVAL AFTER HOURS April 25, 2014 Franklin Institute
Imagine a science wonderland filled with hands-on activities created just for adults. This kick-off event for the 2014 Festival included live science shows, music, demonstrations, and a variety of sensory stimulating stations-all tailored to grownups. For the first time, the LRSM was invited to join and set up a demonstration booth called "The Surprising Behavior of Soft Materials." The night pulled in over 1000 attendees and was a great success. We look forward to our involvement next year.
WEST PHILLY SCIENCE SHOWCASE April 29, 2014 World Cafe Live
Philly tops the list of the best universities and hospitals across the country and many of these world-renowned institutions are located in West Philadelphia. This special Philadelphia Science Festival event utilized the wealth of local knowledge with experts from the University of Pennsylvania, University City Science Center, Monell Chemical Senses Center, The Wistar Institute, University of the Sciences, and Drexel University for an enlightening discussion on the groundbreaking research being conducted west of the Schuylkill river! Two of the speakers were LRSM participants. The first, Professor Andrew Rappe of both the Chemistry and Materials Science and Engineering Departments at the University of Pennsylvania, gave a talk on "Theoretical Chemistry" and made this generally unapproachable topic easy for a general audience to understand. In less than ten minutes he went from simple basics all the way to why his group is focusing on ferroelectric semiconductor-based cells for solar energy conversion!
The second speaker, Bill Berner who acts as Lab Director for the Department of Physics and Astronomy at the University of Pennsylvania, wowed the crowd of over 100 people with a series of exciting demonstrations focused on the topic of buoyancy.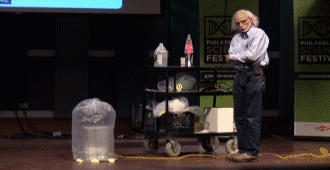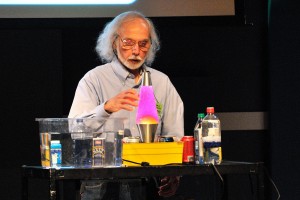 Bill Berner uses houshold items like a toaster, trash bag and lava lamp to illuminate some physics concepts.