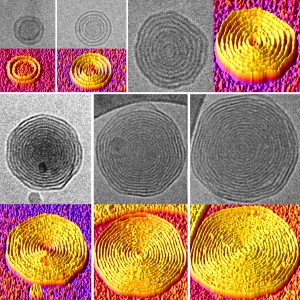 Black and white CryoTEM images of the vesicles were turned into colorized 3-D models to better show their layers.
One of the defining features of cells is their membranes. Each cell's repository of DNA and protein-making machinery must be kept stable and secure from invaders and toxins. Scientists have attempted to replicate these properties, but, despite decades of research, even the most basic membrane structures, known as vesicles, still face many problems when made in the lab. They are difficult to make at consistent sizes  and lack the stability of their biological counterparts.
Now,  Virgil Percec & University of Pennsylvania researchers have shown that a certain kind of dendrimer, a molecule that features tree-like branches, offers a simple way of creating vesicles and tailoring their diameter and thickness. Moreover, these dendrimer-based vesicles self-assemble with concentric layers of membranes, much like an onion.
By altering the concentration of the dendrimers suspended within, the researchers have shown that they can control the number of layers, and thus the diameter of the vesicle, when the solution is injected in water. Such a structure opens up possibilities of releasing drugs over longer periods of time, with a new dose in each layer, or even putting a cocktail of drugs in different layers so each is released in sequence.
https://news.upenn.edu/news/penn-research-develops-onion-vesicles-drug-delivery
Beautiful Science page