Recent News
Virgil Percec Puts a New Twist on Chirality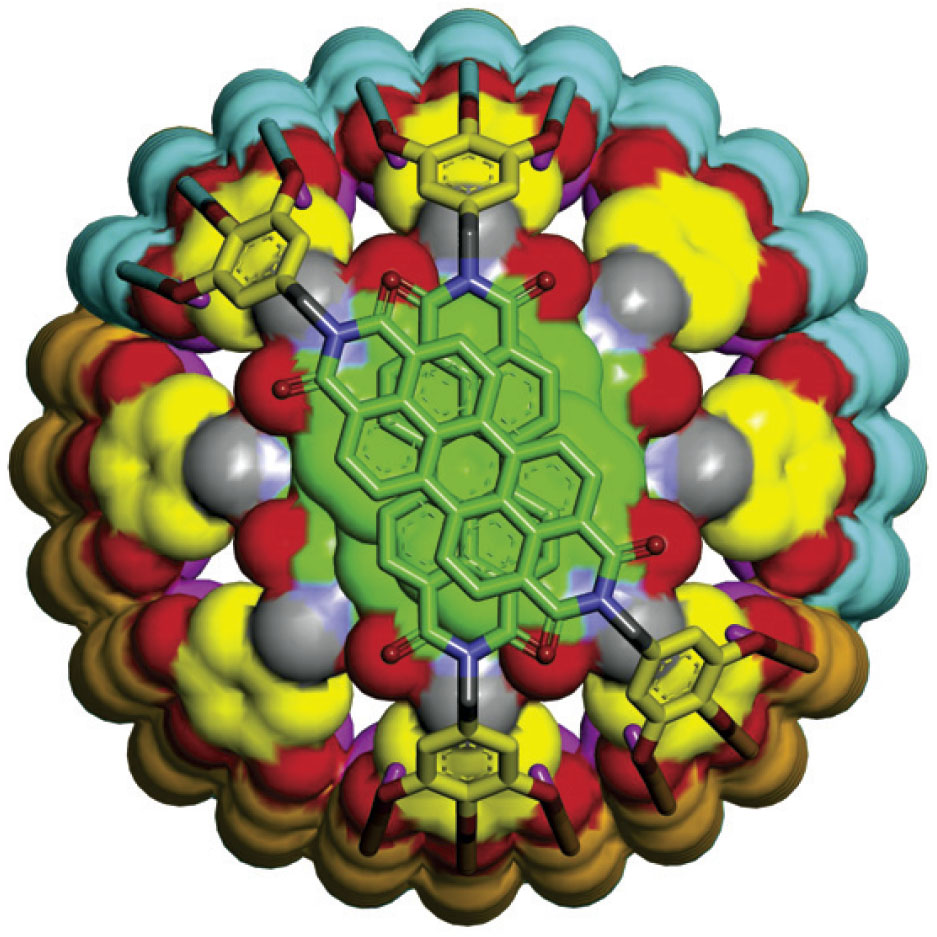 The building blocks of life, such as amino acids, sugars and DNA, all exhibit the same enantiomeric form. This phenomenon – known as homochirality – enables biological and synthetic macromolecules to achieve highly ordered structures and thus exhibit function. Recent work from the Percec group challenges the notion that homochirality is a prerequisite for the generation of highly ordered supramolecular crystals, by demonstrating that homochiral and racemic building blocks can self-assemble into crystalline arrays of identically high order. Such self-assembly is possible only via a newly elaborated cogwheel mechanism, in which the exterior of the supramolecular column is invariant to the stereochemistry of its building blocks. Alkyl chain 'teeth' on the columns' periphery interlock to form the highly ordered structures. This mechanism is anticipated to provide access to other homochiral crystals with practical applications in photovoltaics and organic electronics.
news release
---
Arjun Yodh helps explain "Why Light Matters"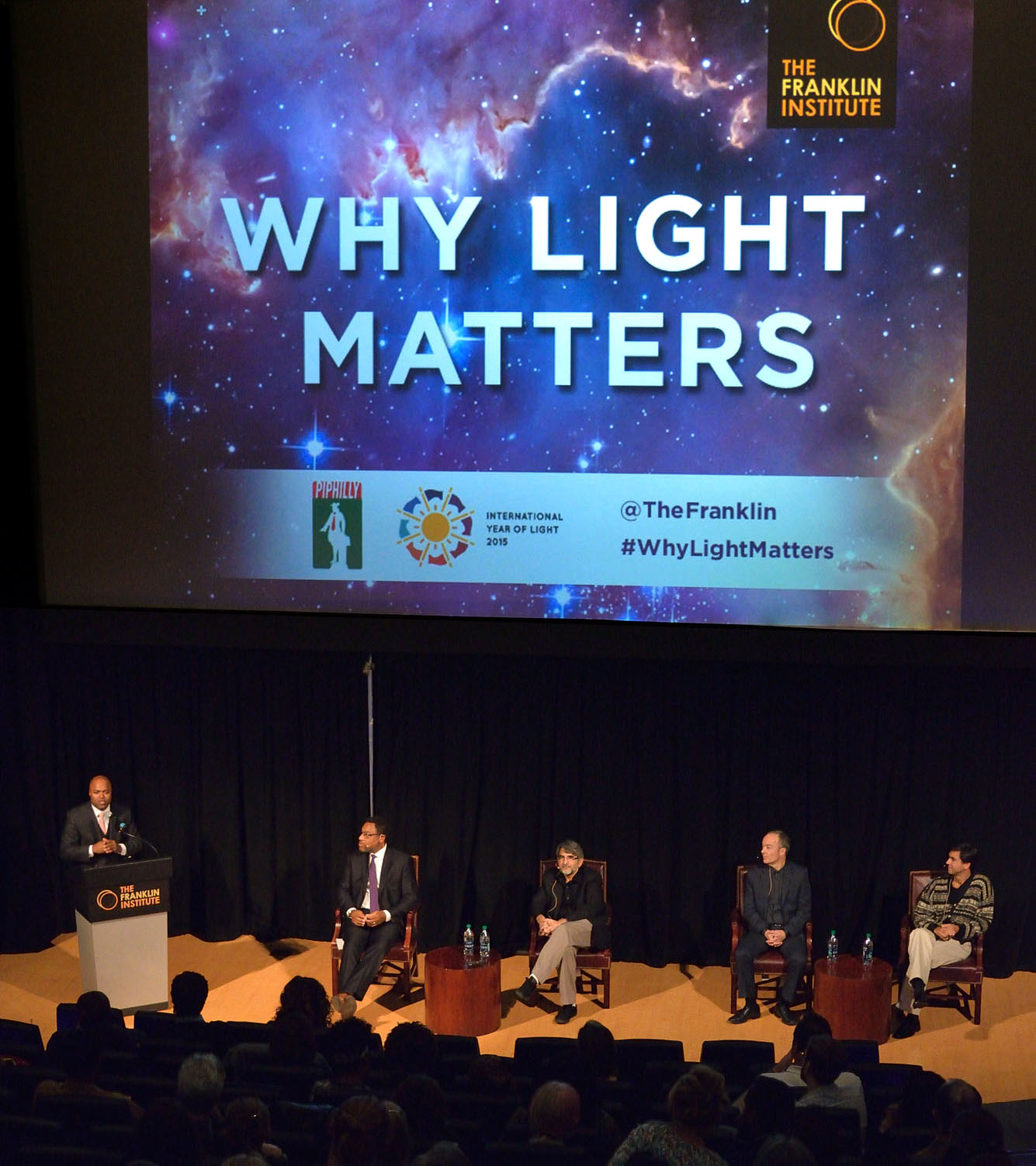 On October 27, 2015, Arjun Yodh, the Director of The Laboratory for Research on the Structure of Matter at the University of Pennsylvania, with, William W. Braham, Professor of Architecture at the University of Pennsylvania and Ravi Sheth, Professor in the Department of Physics and Astronomy at the University of Pennsylvania, spoke on "Why Light Matters" at The Franklin Institute. The event was hosted by Derrick Pitts, Chief Astronomer, The Franklin Institute and was presented to a packed audience in the Franklin Theater.
more information
---
LRSM summer high school science program participant receives MUREP NASA scholarship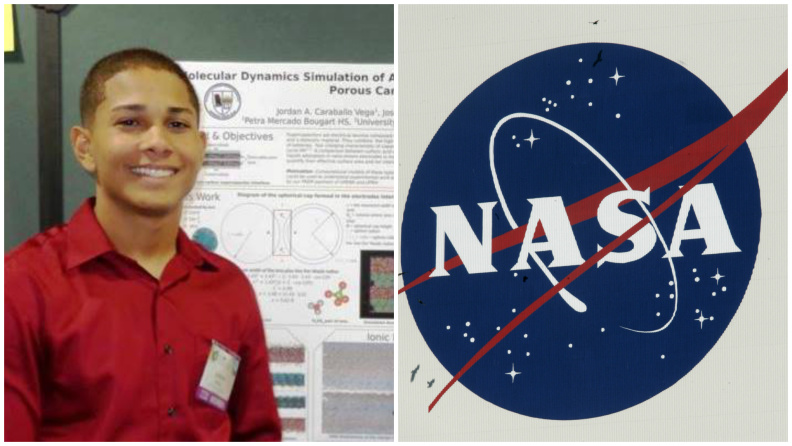 Jordan Caraballo Vega, a freshmen at the University of Puerto Rico in Humacao, was chosen as one of ten students across the United States and Puerto Rico to receive the Minority University Research and Education Programs Small Projects scholarship awarded by NASA. The scholarship covers tuition and summer internships in NASA research laboratories up to a maximum of $15,000 annually for two years. Jordan, a PREM undergraduate, attended the Penn Summer Science Initiative program for high school students in 2014 and worked with Penn professor Jorge Santiago to form the idea for this proposed research project.
more information
---
LRSM research partnership with University of Puerto Rico receives $3M PREM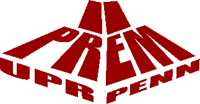 A partnership between the University of Pennsylvania and the University of Puerto Rico was one of six to receive $3M in funding from the National Science Foundation (NSF). The program, called the Partnership for Research and Education in Materials (PREM), links NSF Materials Research Science and Engineering Centers (MRSECs) with educational institutions that serve mainly minority populations. The five year PREM will sustain an extraordinarily successful collaboration between the LRSM (which hosts Penn's MRSEC) and three undergraduate campuses from the University of Puerto Rico. The effort began in 1998 under the NSF CIRE program and has continued with PREM support since 2004. The collaboration will focus on diversifying the pipeline of scientists in all age groups based on research in two general materials topics to integrate research and education: nanoscale interactions of macromolecules at soft and hard interfaces and multi-functional nanodevices from optoelectronic materials. 
[ Penn news release ]
[ NSF news release ]
web page
---
NSF Awards $250K for Topological Materials SUPERSeed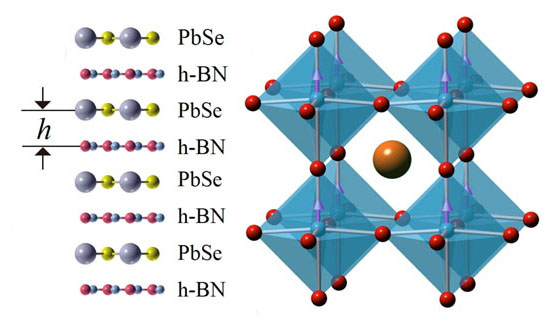 The NSF recently awarded funding ($250K) for a new SUPERSeed, Topological Quantum Materials between Two and Three Dimensions. LRSM's SUPERSeed will combine theory, computation and experiment on topics that lie at the intersection between materials science and topological physics: layered 2D materials, topological semimetals, and ferroelectric (FE) topological insulators. Senior investigators in the SUPERSeed are Charlie Kane, Gene Mele, and Charlie Johnson from the Department of Physics & Astronomy, Andrew Rappe from the Chemistry Department, and Ritesh Agarwal from Materials Science & Engineering; collaborators include Jessica Anna (Chemistry), I-Wei Chen and Peter K. Davies (both MSE), and Chris B. Murray (Chem/MSE). The research builds on the surprising interplay between symmetry and topology in materials electronic structure, motivated by seminal discoveries about topological insulators at Penn. The Penn collaboration was one of three SUPERSeeds selected for support by the NSF this summer, from a highly competitive group of 23 MRSEC proposals.
more information
---
NSF Supports Helium Conservation in the Property Measurement Facility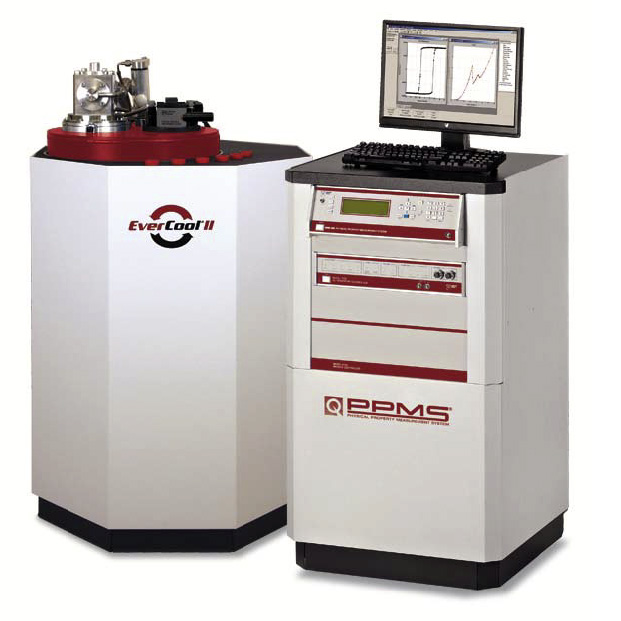 The NSF has awarded additional funds to support helium conservation in the Property Measurement Shared Experimental Facility (SEF). The SEF hosts over a dozen low temperature measurement capabilities requiring liquid helium. Using the award, the Property Measurement Facility will add a helium re-liquefier to a cryogenic, superconducting magnet system.  The new equipment will nearly eliminate helium consumption in the facility, and will enable high levels of instrument availability for end-users.  Helium is a vanishing resource on our planet that plays an important role in scientific discovery.  This award will allow us to recapture helium rather than releasing it into our atmosphere and, ultimately, outer space.
web page
---
Former LRSM Student Pioneers a Materials Breakthrough after Decades of Research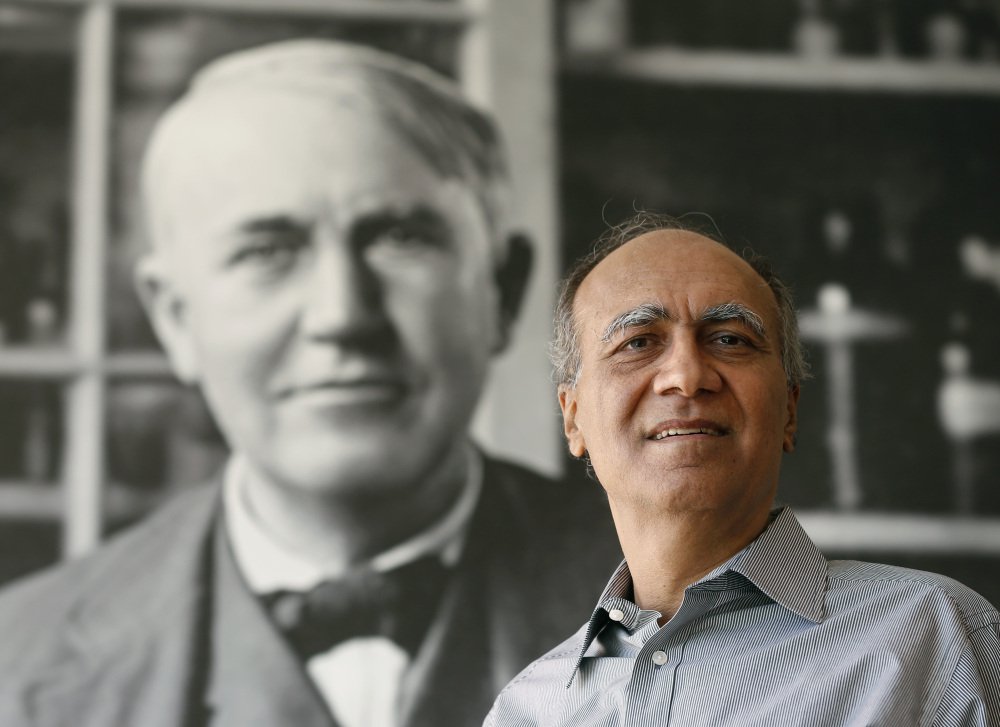 Krishan L. Luthra has recently been recognized for development of a novel lightweight and strong ceramic that is stable at high temperatures. Luthra was a graduate student with Prof. Wayne Worrell, MSE, and was supported by LRSM's block NSF grant to study "The Chemical Behavior of Materials at Elevated Temperatures" in the 1970s. After completing his Ph.D., he went to work for GE in 1976 and now, almost 40 years later, has met with outstanding success in developing a new lightweight, strong ceramic that is stable at very high temperatures. It is being used by GE in advanced jet engines that have potential savings of up to 10% in fuel cost while improving engine thrust by 25%. To date this development has helped GE generate more than $100 billion in sales to airlines and has wider applicability.
more information
---
New soft matter topical group of the American Physical Society

GSOFT is a new topical group within the American Physical Society is devoted to the science of soft condensed matter. LRSM research in our soft matter IRGs and Seeds are intellectually coupled to this new APS group, led by LRSM faculty member Randall Kamien.
[ APS Topical Group on Soft Matter ]
news release
---
Crystal-crystal phase transitions with liquid intermediate states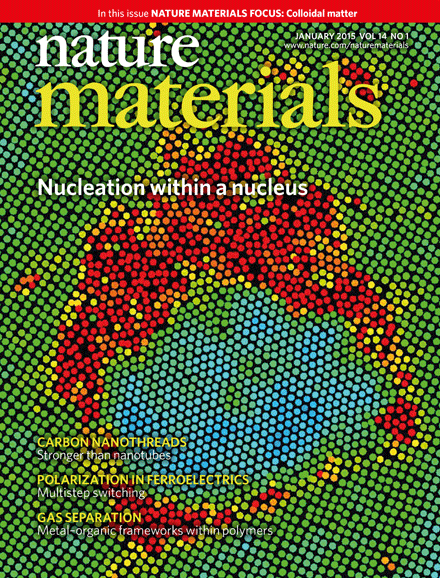 Single-particle-resolution video microscopy of colloidal films reveal that transitions two different colloidal crystals (square- and triangular-lattices) occur via a two-step nucleation pathway with liquid nuclei in the intermediate stage. The nucleation pathway is favored over the direct one-step nucleation because the energy of the solid/liquid interface is lower than that between solid phases.The findings suggest that an intermediate liquid could exist in the nucleation processes of solid–solid transitions of many metals and alloys, and provide guidance for better control of the kinetics of the transition and for future refinements of solid–solid transition theory.
read article
---
LRSM Science Café @ World Cafe Live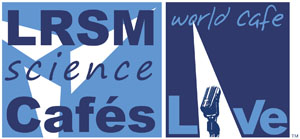 The LRSM Science Café has formed a new partnership with World Cafe Live (3025 Walnut St., Philadelphia, PA), just off the Penn campus and only two blocks from the LRSM building. Beginning in January, 2013, our Science Cafés will be held in the upstairs room at WCL, starting at 6:30 pm. This is a larger venue than usual and we encourage attendees to come early for dinner before the presentation which will last, typically, 30-45 minutes and be followed by an open discussion session between speaker and the audience. The WCL is readily accessible by train, 30th St. Station, bus, 9, 21 and 42, and car, by on-street Pay and Display parking.
more information
---
Russell J. Composto receives NSF Special Creativity Award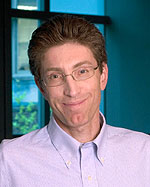 The award recognizes his pioneering research on the dispersion and assembly of gold nanorods confined to polymer nanolayers and their potential applications for optical property control.
news release
---
Dennis Discher Elected to National Academy of Engineering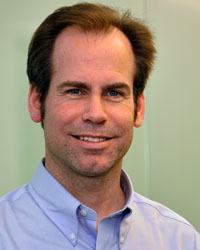 Dennis E. Discher, Robert D. Bent Professor of Chemical and Biomolecular Engineering, University of Pennsylvania, Philadelphia. For elucidation of the effects of mechanical forces on cell physiology and stem cell development.
read more
---
Charlie Kane, 2012 Oliver E. Buckley Prize

Prof. Charlie Kane will be awarded the 2012 Oliver E. Buckley Prize in Condensed Matter Physics by the American Physical Society. Professor Kane and two other researchers are being recognized "For the prediction and subsequent discovery of the new phase of matter known as topological insulators in two dimensions, also known as quantum spin Hall insulators, which lead to its generalization and prediction in three dimensional system." The Buckley Prize will be presented at the APS March 2012 meeting in Boston, MA Feb. 27-March 2, 2012 at a special Ceremonial session.
more information
---