The LRSM, through the NSF-supported Penn MRSEC, continues a series of Science Cafés that began in 2011 to promote NOVA's four part TV series on materials, 'Making Stuff with David Pogue,' on public television. The Science Cafés, which are science talks for laymen about materials-related topic of current interest, will take place at 7:30 pm at Stoney's British Pub, 3007 Concord Pike, Wilmington DE and The Black Sheep Pub, 247 S. 17th Street, Philadelphia, PA 19103, at 6:00 pm.
These programs are free and anyone who is interested is invited to attend. No purchase is necessary.
For further information contact:
Andrew R. McGhie at
215-898-6461
mcghie@lrsm.upenn.edu
Current Schedule
September 26, 2023
Stoney's British Pub
3007 Concord Pike
Wilmington, DE
7:30pm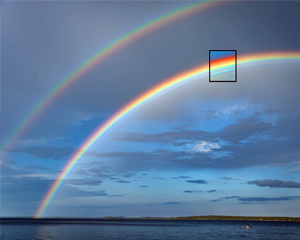 Phil Nelson
University of Pennsylvania
"
Why Are There So Many Songs About Rainbows?
"
Rainbows have a deep hold on the human imagination. Everyone throughout classical antiquity had ideas about rainbows, but no real progress got made until René Descartes; even thereafter, rainbows spurred breakthroughs in physics and math, all the while teasing us with their beauty. For example, the photo shows some extra structure, plainly visible yet never depicted by artists, that clobbered Isaac Newton's theory of light. Let's see where rainbows can lead us today.
---
Past Programs