Response to the COVID-19 Crisis
We are staying vigilant and monitoring all communications regarding health risks pertaining to COVID-19. So we do not jeopardize the well-being of anyone involved, all field trips will be conducted virtually until further notice.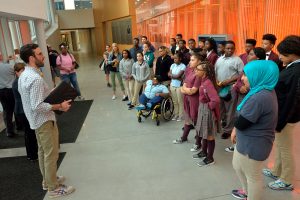 The LRSM and the Singh Center for Nanotechnology at the University of Pennsylvania hosts field trips throughout the year to help students learn more about materials science and engineering. Student groups will tour nanofabrication facilities and explore how multidisciplinary approaches are used to solve fundamental materials problems that are likely to underlie future technologies. The field trips are a great way to experience the campus community, learn more about our facilities and services, and speak with a scientist/engineer.
The field trips include:
a short presentation
a tour around the Quattrone Nanofabrication lab (currently virtual)
a question and answer period with a scientist/engineer
View available dates and times here if interested in scheduling a field trip.
more information:
Ashley Wallace, Associate Director of Diversity & Student Engagement
Laboratory for Research on the Structure of Matter
University of Pennsylvania
3231 Walnut Street
Philadelphia, PA 19104-6202
Tel. (215) 898-3446
Fax (215) 898-8296
e-mail: walla3@seas.upenn.edu
---