Program with Southern Africa

Since 2003 we have successfully partnered with universities in southern Africa, specifically Lesotho and South Africa, to bring four faculty members to the LRSM every summer to participate in collaborative research projects with our associate faculty.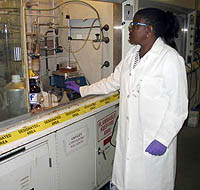 During the summer of 2003 four faculty members, three from the National University of Lesotho and one from the University of North West, South Africa, visited the MRSEC for a month. In summer 2004 three faculty members from the NUL spent two months at the LRSM undertaking collaborative research. The researchers and their projects were; Prof. Ben Maliehe, Physics, NUL who worked with Prof. Charles Kane, Physics on 'The effect of electron interactions on the magnetic susceptibility of carbon nanotubes,' Prof. Ncholu Manyala, Physics, NUL, who worked with Prof. Charlie Johnson, Physics on 'Electron transport and phonon spectrum in hybrid nanoscopic "peapods", and Prof. Mantoa Sekota, Chemistry, NUL who worked with Prof. Donald Berry, Chemistry, on 'New polymerization catalysts for control of helical domains in opto-electronic polymers.' Since 2003, the following faculty from Southern Africa have participated in this program.
South African visitors and their collaborators 2003-2011
| | | |
| --- | --- | --- |
| Visitor | | Collaborator |
| Ncholu Manyala, NUL/Pretoria* | | Charlie Johnson, Physics |
| Ben Maliehe, NUL | | Charles Kane, Physics |
| Mantoa Sekota, NUL* | | Berry/Therien/Schelter, Chem. |
| Spirit Tlali, NUL | | Ritesh Agarwal, MSE |
| Max Mpholo, NUL* | | Haim Bau, MEAM |
| Simeon Taole, SA | | Klein, Chem, Johnson, |
| Z.I.Thamae, NUL | | Klein |
| Martin Ntwaeaborwa, SA* | | Johnson |
| Ulrich Buttner, SA | | Johnson |
| Makonteraka Hlena, NUL* | | Paul Janmey, Physiology |
| Mopeli Fabiane, NUL* | | Agarwal/Johnson |
| Tebello Mathaba, NUL | | Haim Bau |
| Sejakhosi Mohale, NUL | | Jason Burdick, Bioeng. |

Visitors in summer 2011 are Ncholu Manyala, University of Pretoria, Max Mpholo, MUL, and Mantoa Sekota, NUL
---
Telepresence
In conjunction with the Philadelphia School District, we can now link the SEFs with school classrooms in real time using a recently purchased V-Tel teleconferencing unit and the School District's cable TV network. By analyzing the products of classroom experiments using our sophisticated instrumentation, and allowing students to have partial control of these instruments, an increased awareness will be generated of the advanced technologies that can be brought to bear on scientific problems. In addition, this interaction will enable the students to appreciate the research being carried out by scientists and engineers. This program is open to grades 7-12 and covers experiments in chemistry, physics, earth sciences, biological sciences, and environmental science. The first program, demonstrating the use of scanning electron microscopy was broadcast on November 5, 1998. Multiple broadcasts have since been made to Pennsylvania schools and to Philadelphia schools through the cable network and more recently by broadcasting from the school district's t.v. studio.
---
Past Programs
Workshop on Science in Archaeology
Since 2004 we have worked with the staff of the University Museum of Archaeology and anthropology to present a one-day workshop on materials science applied to archaeology. The workshop consists of a series of lectures on archaeochemistry, archaeometallurgy and archaeoceramics coupled with lab tours of LRSM and museum facilities, CAAM, culminating in a tour of a local bronze casting foundry.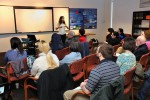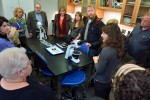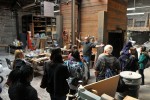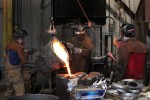 Teachers Monthly Lecture Series
Since 1994, the LRSM has presented a monthly series of materials-based lectures to science teachers during the school year. These were given by faculty and staff associated with the LRSM. The lectures were free, took place on Thursday evenings at 5:30 pm, and were followed by food and refreshments during which teachers could engage the speaker in conversation about the talk or other aspects of education. We recently decided to conflate this lecture series with our Science Cafe series in Philadelphia, which are now held on the same day, Thursday, and at approximately the same time, 6:00 pm. These lectures have similar content. For further information go to our Science Cafes page.
Past programming:
Enrichment Course for High School Science Teachers
This ongoing program, established in 1994, provides a combined lecture/demonstration course for high school science teachers and was expanded in 1994/95 to cover the full school year. The course, entitled ' Advanced Materials: Synthesis, Characterization and Properties', is composed of a monthly lecture, given by an LRSM-affiliated faculty member, and may be followed by a visit to one of the Shared Experimental Facilities of the LRSM which is pertinent to the lecture topic. Approximately 20 teachers from the Philadelphia School District attended this non-credit course annually and almost 200 teachers have participated in our teachers programs. [ View Past Program Schedules ]
---
CIRE Program with the University of Puerto Rico

An NSF funded Collaborative to Integrate Research and Education, CIRE, between the PENN MRSEC and the University of Puerto Rico at Humacao, Rio Piedras, and Bayamon began officially on Jan 1, 1999. Steps have already been taken to initiate this program with exchange visits of faculty. The program is designed to improve minority education in materials science by utilizing both the human and practical resources of the MRSEC to establish joint research programs between faculty that will involve undergraduates in research and sponsor summer exchange programs for both faculty and students at UPR. Videoconferencing will also be used to augment undergraduate education and research.
---
Annual PENN-UPR CIRE Scientific Meeting 2000
The annual CIRE meeting between PENN faculty and UPR faculty and students was held at the Humacao University College, UPR on Oct.30/31, 2000. Participants from UPR included Profs. Gabriel Barletta and Margarita Ortiz, Chemistry, Profs. Idalia Ramos, Nicholas Pinto and Claudio Guerra, Physics, and Prof. Lesser Blum, Physics, Rio Piedras, and their students. PENN participants included Profs. Charlie Johnson, Physics, Jorge Santiago, EE, Alan MacDiarmid and Andrew Rappe, Chemistry and Andrew McGhie, LRSM. This was the first meeting attended by Alan MacDiarmid since winning the Nobel Prize in Chemistry earlier in the month and was marked by a banquet in his honor given by the University Chancellor, Prof. Roberto Marrero. The meeting concluded with a special lecture given by Prof. MacDiarmid to 300-400 undergraduates and high school students who crowded the University's recently renovated UPRH Theater.
Prof. MacDiarmid, who is keenly interested in educating the young, met and was photographed with a large number of high school students and their teachers (see photos) after giving an inspirational talk. Several members of the fourth estate attended and interviewed Prof. MacDiarmid resulting in many articles in the Puerto Rican press (see right.)
---
Prior Summer programs for High School Students
The LRSM, in conjunction with the Pennsylvania Summer Science Academy, (PSSA), organized by the College of General Studies at Penn, had instituted a 4-week long summer course in Materials Science for up to 24 high school science students. Courses offered by PSSA included Molecular Biology, Environmental Science, and Mathematical Science. The Materials Science option started in 1996 with 23 students and included a daily lecture, computer instruction, discussion groups, week-long laboratory experiments in the LRSM's Shared Experimental Facilities, and visits to both industrial and Penn laboratories. Most students lived on campus and were drawn from a national applicant pool. After the course the students rated the laboratory course at 9.9/10, the highest rating ever achieved in the PSSA program, and the instruction at 8.4/10.
---
Workshops for Teachers: Laboratory Experiments on Materials
In 2010 we started a series of workshops for teachers on 1) mechanical properties and 2) thermal properties of materials. These are given at the LRSM and are led by Schuyler Patton and are based on his highly successful senior elective course on materials science at Central High School, Philadelphia.