First Transistors Made Entirely of Nanocrystal 'Inks'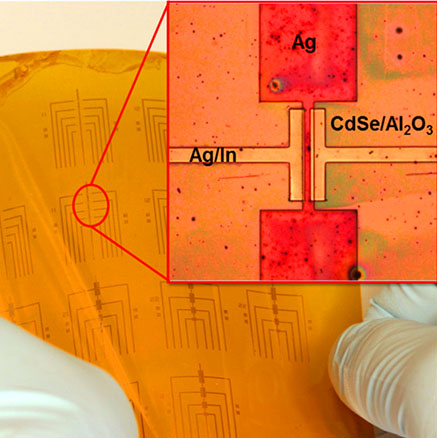 The transistor is the most fundamental building block of electronics, used to build circuits capable of amplifying electrical signals or switching them between the 0s and 1s at the heart of digital computation. Transistor fabrication is a highly complex process, however, requiring high-temperature, high-vacuum equipment. 
Now, University of Pennsylvania engineers Cherie Kagan, the Stephen J. Angello Professor in the School of Engineering and Applied Science, and Ji-Hyuk Choi have shown a new approach for making these devices: sequentially depositing their components in the form of liquid nanocrystal "inks."
Their new study, published in Science, opens the door for electrical components to be built into flexible or wearable applications, as the lower-temperature process is compatible with a wide array of materials and can be applied to larger areas.
press release
---