March 31, 2016
University Club
Inn at Penn Hotel
36th & Walnut Street
Philadelphia, PA
6:00pm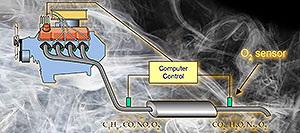 Raymond J. Gorte
Department of Chemical & Biomolecular Engineering, University of Pennsylvania
"
Automotive Emissions-Control Systems: How Does It Work and What Did Volkswagen Do?
"
The emissions-control systems on modern automobiles and trucks are amazingly successful and amazingly complex. With gasoline-powered vehicles, the basic technology has been unchanged for more than 20 years. It employs feedback computer control of the engine and increasingly sophisticated tailpipe sensors and catalysts. However, because this technology requires that the engine be operated at the stoichiometric air-fuel ratio, it cannot be used with the more efficient lean-burn engines, which includes Diesel engines. The emissions systems on these vehicles are even more complex and amount to having a chemical plant in your tailpipe.
This talk will provide an overview of how these technologies work and how one can cheat.
---